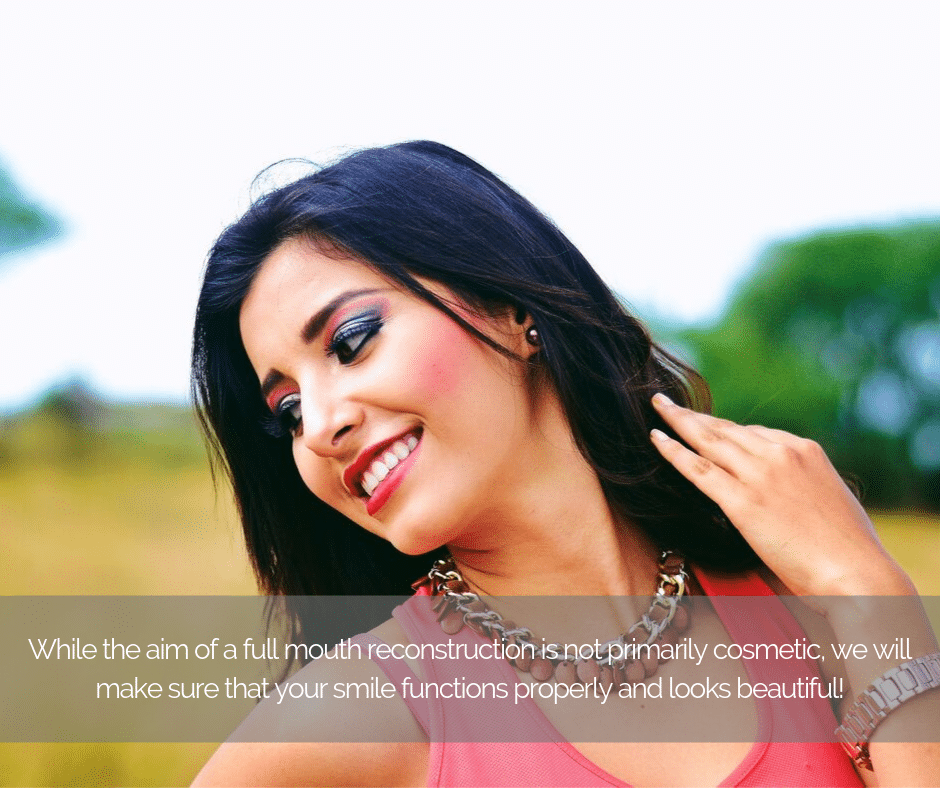 While most patients benefit from having individual teeth removed and replaced with dental implants and crowns, for some, that might not be enough to fully restore health and function. There are situations in which a patient isn't just missing a single tooth and may need more involved treatment. 
Extensive tooth loss can result from injury, decay, and as a result of other medical conditions. The good news, though, is that there is a solution: Full Mouth Reconstruction.
What Is Full-Mouth Reconstruction?
Full-mouth reconstruction is a dental treatment that our Boston dentists use to reconstruct all of the teeth in a patient's upper or lower jaw. Full-mouth reconstruction differs from a "complete smile makeover" because it is a medically-necessary procedure. It's not about making the teeth appear more attractive: it's about providing the patient with a biting surface that they can use to eat food, all the while eliminating any infection such as periodontitis. 
What Happens During Full-Mouth Reconstruction?
A full-mouth reconstruction is not a single procedure. Instead, it's something that we perform over several appointments. 
Full-mouth reconstruction is a catch-all term that doesn't refer to any specific procedure. It's better to think of "full-mouth construction" as the end goal. The goal is to use a variety of techniques to restore the patient's mouth to a healthy and usable state. 
You might be in need of a range of procedures during full-mouth reconstruction treatment. These could include: 
The range of treatments that we recommend depends on your current situation. We discuss what is necessary to bring your mouth back to health. While full-mouth reconstruction is not primarily cosmetic, we will make your mouth function properly and your smile look beautiful. 
Should You Get A Full-Mouth Reconstruction?
Full-mouth reconstruction is not suitable for every patient. It mainly benefits those who are missing a large number of teeth because of an accident, decay, or illness. 
Our Boston dentists will assess your situation, and work with you to determine whether you need full-mouth reconstruction or not. They will examine your mouth to assess the extent of damage and build a treatment plan with you. 
Schedule An Appointment Today!
We will be happy to meet with you and answer all your questions. We understand that having dental procedures can be a frightening experience, but you're in the right hands at Dental Partners of Boston. You'll have a whole team of dentists that will work on your case, giving you the best possible options, and ensuring that you are well-informed and comfortable with a treatment plan. Schedule an appointment with us today!