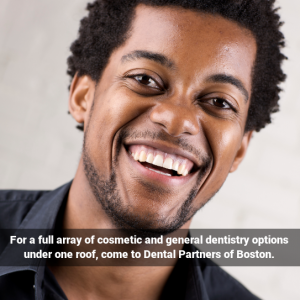 Our goal at Dental Partners of Boston is to give you the treatment you need—whatever it is—without having to refer you away from our office. Thanks to the number of doctors on our team and the range of specialties we cover, we can perform almost any dental procedure in-house, including cosmetic procedures. If you are seeking a Boston cosmetic dentist, you may find that you're better off with several—all  in one central location.
Nothing illustrates our philosophy better than the way we come together to perform smile makeovers. When you need more help than just one or two procedures can provide, we will help design a plan that is customized for you and can be completed here.
While not strictly a cosmetic procedure, dental implants will undeniably improve your smile, replacing your missing teeth with beautiful, bright permanent crowns.
Almost any cosmetic flaw in your teeth can be reversed with veneers. These custom-made porcelain shells cover your teeth and replace them with a new, perfect surface. Lumineers take it one step further, with porcelain so thin that we don't even have to remove any tooth enamel to make room for them.
Braces by themselves do a lot to improve your smile—but with Invisalign, the process itself is invisible, so your smile stays beautiful now.
The whiter your teeth, the better your smile will look. DPOB offers professional in-office teeth whitening for immediate results.
If you need a tooth repaired after a cavity, the most aesthetic option is composite resin, which is almost indistinguishable from your natural tooth enamel. It is also safe and mercury-free.
In the past, crowns required at least some metal, leaving you with ugly dark lines across your teeth. Today, we are able to offer all-porcelain crowns to protect your teeth without sacrificing appearance.
However bright your teeth, age still shows in your skin. Dental Partners of Boston offers treatment options for wrinkles and creases, to return a youthful appearance that will match your carefree smile.
While cosmetic dentistry is only one facet of our practice, it illustrates the success of our approach. We are able to offer all these treatments and more under one roof. Make an appointment today, and let us brighten your smile.