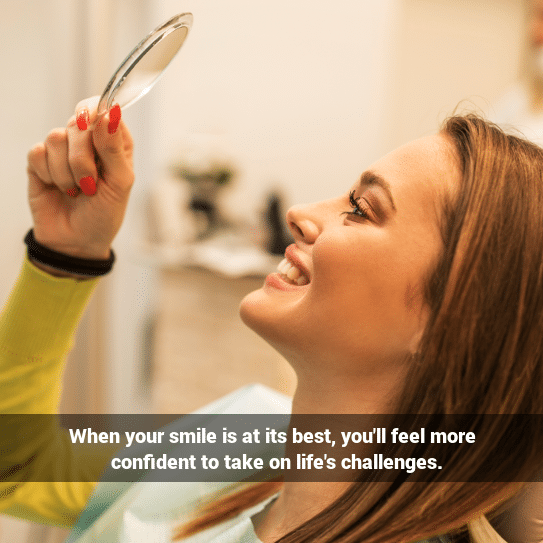 You look into the mirror and you like what you see, but you are not completely satisfied with your smile. If this sounds like you, you should look into cosmetic dentistry.
At Dental Partners of Boston, not only are we known for our outstanding care for overall dental health, but we also offer an array of cosmetic options to help brighten and beautify your smile.
From simple procedures such as basic teeth whitening, to complete smile makeovers, there is something here for every smile and every budget.
Your teeth are strong and healthy, and when you visit your dentist, everything checks out. But something is lacking when you see your smile in pictures or in the mirror. Your teeth are functional, but you're not proud of them.
Why Cosmetic Dentistry?
Improving the appearance of your smile has more benefits than you might realize. Beautiful teeth can boost your confidence, giving you poise and assurance. Your improved self-image can help to improve your self-esteem, your relationships with others, and even your presence in the workplace. Many people find that when they feel more presentable, they become more outgoing and successful in their daily endeavors, as well as their biggest ambitions. An attractive smile can make you seem more inviting, more personable, and more alluring to those around you.
A Range of Options
It might surprise you how many different ways there are to improve the look of your teeth. If any of your teeth are chipped or oddly shaped, we offer dental veneers, dental bonding, or Lumineers to help improve them. We can change out old metal fillings and crowns for tooth-colored restorations so that they blend in better. We can straighten out your misaligned teeth with discrete Invisalign braces. For those with missing or severely damaged teeth, we offer natural-looking dental implants. For those with stains and discoloration, we provide custom teeth whitening services, so you can choose the brightness of your teeth. Choose one or two options, or get it all with our Complete Smile Makeover!
Your Boston dentist at Dental Partners of Boston truly cares about your health. Not just your dental health, but your mental and emotional health as well. Let us show you how making your smile beautiful can open doors of opportunity and bring out the confidence and happiness in you! Contact us today to schedule your next appointment.