---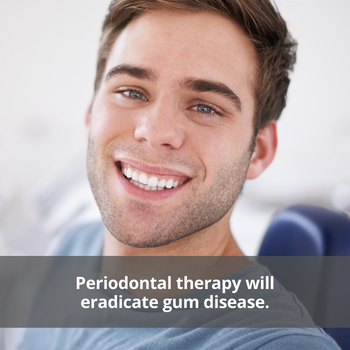 The main goal of periodontal therapy is to prevent the destruction of tissue. By undergoing periodontal therapy, patients are able to prevent bone loss and prevent the need for tooth extraction or gum surgery later.
Even though there are options to fight gum disease, the best way to keep your gums healthy and in good shape include:
Good Hygiene
You should brush your teeth at least twice a day, preferably after meals. If you have plaque on your teeth all the time, it's hard to keep up with removing it and treating it before it causes damage to your gums and the bones that secure your teeth in place.
Additionally, you will want to floss your teeth daily to ensure that there isn't any food stuck between your teeth — which could lead to decay and plaque buildup if not removed.
Visiting the Dentist Regularly
In addition to having a good dental hygiene regime, you will also want to visit your local Boston dentist regularly to keep your smile and gums happy and healthy. During these visits, you will be able to get a thorough cleaning and your dentist will be able to let you know if there are any changes to your overall oral health.
If you are experiencing changes in your mouth, do give your local Boston dentist a call to make sure that there isn't an infection or something else going on with your overarching oral health.
Best Periodontist Boston
In summary, periodontal therapy is a treatment that helps to keep your gums and teeth healthy for the long haul. It involves removing plaque and tartar buildup from around the teeth to treat gum disease and make your mouth feel better.
But, the best way to avoid gum disease altogether is through good dental hygiene and visiting our dentist regularly by scheduling an appointment in Boston!