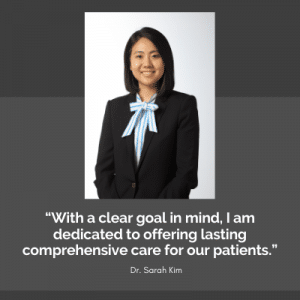 Dr. Sarah Kim is a new prosthodontist at Dental Partners of Boston.
What is a prosthodontist? A prosthodontist is a dentist who graduated dental school and then completed at least three additional years of advanced training and education in a prosthodontic program. They specialize in cases that require restoring missing teeth.
Background
Dr. Kim earned a Bachelor of Science degree from Trinity College with a major in neuroscience and minor in music. She received her Doctor of Dental Medicine degree, magna cum laude, from Boston University School of Dental Medicine. She was selected to participate in international externships to England and Nicaragua to engage in emergent oral health issues.
After dental school, Dr. Kim continued her training at Columbia University College of Dental Medicine. During that time she enrolled in a three-year specialty program in prosthodontics. There she developed her talents in reconstructive and esthetic cases, implants, fixed prostheses and removable dentures. She ultimately earned a Master of Science in prosthodontics.
Memberships
Dr. Kim is an active member in both local and national dental organizations, including the American College of Prosthodontists and the Massachusetts Dental Society.
Approach to Patient Care
Regarding her approach to patient care, Dr Kim said "With a clear goal in mind, I am dedicated to putting the puzzle pieces together to offer lasting comprehensive care for our patients." She knows there can be a lot of moving parts requiring different dental care team members contributing their special talents. Therefore, as a prosthodontist, Dr. Kim appreciates a team approach in providing comprehensive treatments in a patient-centered relationship. Outside of dentistry, Dr. Kim enjoys long walks throughout the city and attending musical concerts.
About Dental Partners of Boston
At Dental Partners of Boston, among the best dental offices in Boston, we approach each patient's care as a team effort. A variety of skill sets and specialties in one office means every patient receives an advanced, customized treatment plan. Our patients also benefit from collaboration between our dedicated specialists. Together, we have the skill and training to maintain or restore health to your teeth, gums, and jaw, whatever the condition of your mouth when we start.
Dental Services
We offer comprehensive dental care in Boston with a range of services, including dental implants, cosmetic dentistry, periodontal care, restorative dentistry, and orthodontics. In our modern, comfortable offices, we care for our patients with personal attention and professional care using the most advanced procedures and technology in Boston.
Smiles are beautified through cosmetic services like teeth whitening and veneers. Our prosthodontists at Dental Partners of Boston can provide you with any of the following services that are right for you:
Lumineers – A brand of porcelain dental veneers.
Dental Veneers – Several thin ceramic layers that are compiled and then adhered to a tooth to replace the original tooth enamel.
Partial Crowns, Inlays, and Onlays – Inlays are custom-made fillings to repair damage to the tooth's inner biting surface. Onlays repair the outer biting surface of teeth.
Cerec® – One-visit Crowns – An advanced technology to take impressions quickly and creates precisely fitted filling to speed up your office departure.
Dental Crowns, Dental Bridges, and Dentures.
Full-mouth Reconstruction – Full-mouth reconstructions combine esthetics with restorative dentistry to improve the health, function, and beauty of the mouth.
Complete Smile Makeovers – A complete smile makeover may include cosmetic dentistry, gum contouring, dental implants, and other services.
Please contact us for an appointment at one of our full-service offices in Boston.