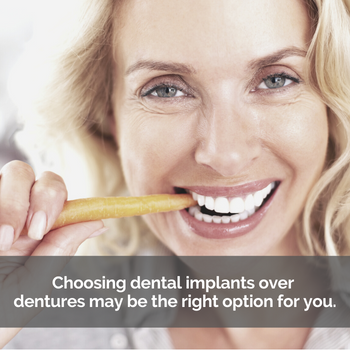 While we do our best to try and keep our teeth in tip-top shape with regular dentist visits and good dental hygiene, sometimes we still lose a few teeth as we age. This is where the best dental implants can be a lifesaver. A dental implant has many benefits when compared to dentures, which we'll explore in this article, but are they right for you? Here are a few key points to consider.
1. Dental implants are easy to care for
While there's nothing wrong with dentures, they aren't the same as real teeth. They can become stained, and you need to remove them for cleaning. Many patients, understandably, don't want to deal with this, and that makes dental implants a good choice.
2. Dental implants are more comfortable than dentures
When compared to dentures, dental implants are also more comfortable. They are surgically implanted into the jaw, whereas dentures are held in place with adhesive. Dentures can also sometimes refuse to stay in place while talking or eating, which can be annoying.
3. Dental implants could save you money over time
While dental implants are more expensive than dentures initially, they save money over time. This is because implants are easier to maintain, and you'll require fewer visits to your dentist. Implants will last for decades, but dentures will occasionally need to be replaced or repaired.
4. Dental implants preserve your bone structure and jaw
While dentures are a fine solution, they do not help maintain your jaw bone. When you lose teeth, the jaw can become weak because the teeth help strengthen it. Since implants are inserted in much the same way your natural teeth would be, they work to preserve your jaw bone integrity just like real teeth do.
5. Dental implants can be done on the same day
If you are looking to get dentures made, then prepare to wait. It can take several weeks or even several months to complete the entire process! In comparison, dental implants can happen in just one visit. Though you will, of course, have a follow-up visit, your smile will be as good as new in just one session, which can range from 30 minutes to 3 hours.
In closing, there are many benefits to dental implants. While they aren't right for everyone, it's worth checking them out. Implants can give you back your smile and your confidence the way your original teeth did, and you won't have to fuss with dentures. Please contact us to discuss if dental implants are right for you. We'll be happy to answer your questions.