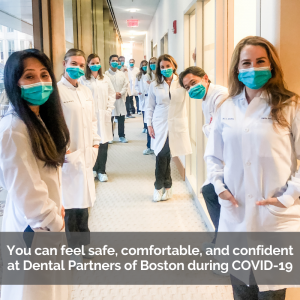 The global pandemic has had a profound effect on the way dentistry is practiced. In March, the American Dental Association advised dental offices to close to help prevent the spread of COVID-19. The main form of transmission of the virus is through respiratory droplets from a person's mouth or nose, and this put dentists, and our patients, at a high risk of infection.
We are grateful to our patients for their understanding and response to the serious situation as we canceled or postponed their regular appointments.
During those months of closure, we put new procedures into place that would keep our dentists, our team, and our patients safe while they were in our care. These new policies allowed us to safely open again in May.
Cover Story of Boston University's School of Dental Medicine
Boston University's School of Dental Medicine has a publication called impressions. Dental Partners of Boston is the cover story for their fall 2020 issue, called "COVID-19, How We Managed." In this article, you can read about our new strategies that reduce exposure to the virus.  Our article is on page four. We encourage you to take a look! You can read it online or download it here.
As you'll read in the article, we were careful to consider every aspect of our practice. From entry to exit, we want our patients to know that we are doing everything we can to not expose them to the virus. With enhanced precautions in place, you can expect to be kept safe. Each new protocol is to protect patients, our clinical team, and our administrative team.
Enhanced Precautions
Here is a shortlist of our enhanced precautions. You can read more details in BU's article, and also on our web page about what to expect at your visit during the pandemic.
We have new arrival procedures in place as our team greets and guides you to treatment rooms
The reception area has been arranged to ensure physical distance
We placed hand sanitizers around the office
A new pre-rinse is for patients to use before treatment begins
We added air purifiers with advanced technology to filter particulate and molecular pollutants
New personal protection equipment creates effective barriers against germs
Teledentistry
The most effective change has been the incorporation of teledentistry into our care. When you come in for your regular visits with a hygienist, the hygienist documents all your diagnostic data and gives it to your dentist. He or she will review any radiographs, photos, or scans of your mouth at a later time. This will reduce how many people you interact with while you're in the office.
We'll schedule a 15-minute teledentistry visit during which the doctor will share his or her findings in your diagnostic data.  You'll be able to meet in a video call from your home with your computer, tablet, or cell phone. During this call, you are welcome to ask any questions about your health or these new procedures. We always want to make sure you understand every aspect of your dental care so you continue to feel confident and comfortable with Dental Partners of Boston. Please contact us to schedule an appointment today.