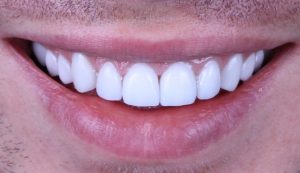 There are many people that wish to have a beautiful and bright smile. The great news is that there is a way to make that wish come true.  Dental Partners of Boston have dental offices that offer Lumineers. Our cosmetic dentists and trained team will ensure that your Lumineers look great and give you a brighter smile.
What Are Lumineers?
Lumineers get their name from the word "lumens" which is a measurement of the brightness of a lightbulb. It makes sense then, that Lumineers brighten your smile. The process is easy, causes minimal discomfort, and is affordable.
Lumineers are a cosmetic dental procedure. It is a very effective option for patients that have misaligned or chipped teeth. You can even get Lumineers for discolored teeth or if you want your teeth to be a certain shade of white.
Lumineers vs. Veneers
Traditional veneers require the altering or filing of your enamel to help fit the veneer. The veneer replaces the enamel to give the teeth strength and beauty. This is not necessary with Lumineers. You can have the process completed in as little as two visits to your Boston cosmetic dentist.
How Does It Work?
The process of getting Lumineers is similar to getting porcelain veneers. A great thing about this procedure is our dentists can fix misaligned or chipped teeth without removing or redoing any previous dental work. The end result is a whiter, brighter, and straighter smile.
The first appointment is to create a mold of your teeth and plan out the best places to fit and fix your new Lumineers. The second appointment is to make sure your new Lumineers fit comfortably and feel natural for your day-to-day routines—eating, talking, and sleeping. If everything fits, the dentist bonds the Lumineers inside your mouth over your teeth. That's it! It's that simple.
If you are interested in receiving Lumineers and have a smile you are proud of, contact us today and schedule an appointment. We are excited to help you make your smile brighter with Lumineers.