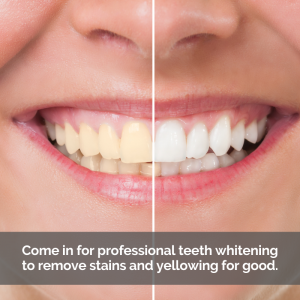 Teeth can become stained for various reasons. The main cause of teeth staining is certain food and drink, but medication and oral hygiene can also play a part as well. Some teeth stains can appear on the surface of the tooth, whereas others can appear underneath the enamel. Teeth whitening services are available here at Dental Partners of Boston that can remove those stains permanently.
Types of Tooth Discoloration
Tooth discoloration often happens as the result of surface stains. Take a look below to find out more.
Extrinsic Teeth Stains: It's important to know that extrinsic tooth stains are essentially staining on the main surface of the tooth. It usually happens when stain particles, which can include pigmented residue from either food or drink, build up on the surface of the tooth in the form of a protein.  These stains can be caused by the regular consumption of cola, wine or coffee.  This staining responds well to whitening toothpaste and regular dental cleaning.
Intrinsic Teeth Stains: Intrinsic teeth stains are essentially staining below the surface of a tooth. It happens when the stain particles work their way through the tooth's surface and they accumulate within the enamel. Too much fluoride can sometimes be linked to intrinsic staining. Stains like this can be removed with teeth whitening treatment.
Age-Related Teeth Stains: Age-related teeth staining is often a combination of intrinsic and extrinsic discoloration. The core of your teeth is dentin, and this naturally yellows over time. The enamel on your teeth will become yellow over time, and this allows the dentin to show through. Age-related staining cannot be prevented entirely, but if you undergo a teeth whitening procedure, then you will soon find that a lot of it can be reversed. 
Common Culprits for Teeth Staining
     

Coffee, dark soda, red wine, and tea

     

Smoking tobacco and chewing tobacco

     

Trauma or disease

     

Chemotherapy

     

Irregular brushing

     

And more
The Solution? Teeth Whitening!
It doesn't matter whether intrinsic or extrinsic conditions stained your teeth because you can whiten your teeth to the beautiful shade you desire. Things like whitening toothpaste, strips, and even mouthwash can help. If you want to get the best result out of your teeth whitening experience, come in for a teeth whitening procedure.
Here at Dental Partners of Boston, we are very proud of the results we help our patients achieve. We always cater the services we provide according to your goals for your smile. We are always investing in any new emerging technology and products. If you want whiter teeth, then why not schedule a consultation with our team today? We are always open to seeing new patients and we cannot wait to see how we can help you to gain confidence once again with your smile.