---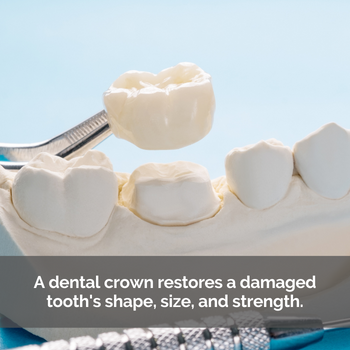 Are you dissatisfied with how your teeth look? Do not despair. We have a great solution for you. You are going to find plenty of tooth restoration options when you visit us at Dental Partners of Boston. Our best dentists in Boston offer numerous prosthetic devices to correct your smile. What's more, we help patients of all ages and backgrounds to replace missing, broken, worn, or discolored teeth in ways that fit their means and their personal comfort level. Sometimes, we can also cover problem spots with cosmetic dentistry such as tooth-colored fillings or veneers instead of covering a whole tooth with a prosthetic. Remember, when you come in for a consultation, we will only give you recommendations that will be the best solutions for your specific dental needs, such as a bridge or dental implants.
What Is A Crown?
A dental crown serves as a cap over a worn-down or broken tooth. It is typically made out of ceramic instead of the traditional crowns, which may be porcelain fused to metal, gold, or metal alloy. A crown does its job for many years. The chances of success with a crown are great if you comply with all our procedure instructions. Let us create a custom, natural-looking crown to cover your existing tooth so that it mimics a healthy one. We take the time to ensure each crown has the optimal fit in your mouth and provides lasting comfort.
Why Patients Get a Crown
Here are some common reasons that patients need a crown:
A single tooth is already significantly damaged, and it might already have fillings on multiple surfaces.
There is a dental implant that needs a cap.
This tooth will support a bridge.
Your damaged tooth has already been hollowed out during a root canal procedure.
A patient wants to cosmetically improve a tooth due to its unappealing shape, height, or color.
A tooth does not match the other healthy-looking teeth in the patient's mouth.
There is not enough of the base remaining for a proper filling.
How The Same Day Crown Appointment Works
Creating a crown involves forming an impression of your tooth using a putty-like substance and shipping it to a lab that is composed of all porcelain. This procedure usually requires less drilling on the affected tooth, and you walk out of the office with a beautiful crown that is indistinguishable from the natural teeth around it.
Questions to Ask the Dentist
As a patient, you may expect minimal discomfort, but we will discuss your options for numbing or even sedation if you are nervous. Remember to ask about it during your consultation and exam before the procedure. Here are some additional questions you might want to bring up with your dentist at your consultation:
Does my insurance cover a larger part of same-day crowns or regular crowns?
Do I need a bridge instead of a crown because my tooth is so badly damaged?
Should I have my tooth extracted and replaced with a dental implant?
Do I need to invest in a complete mouth restoration?
Getting a crown is a decision that we'll help you make. We will never suggest a procedure that you don't need, but we'll be sure to explain all your options and answer your questions. Whichever option you choose, our goal is to provide beautiful results that give you more confidence when you smile.
Contact Us Today
Patients who want to improve the look of their teeth and protect them from additional cavities and/or decay may consider a crown as a long-term solution for a damaged tooth. We can help at every stage and promise to answer all your questions before we do anything. We'll help you to be comfortable during procedures and expect you to be very happy with the outcome. Please contact us today to schedule a consultation.