Gum recession can cause a wide range of issues, including dental sensitivity, exposed roots, and even cause your tooth  to become loose or even fall out completely. Older treatments for gum recession included gum grafting, a procedure that involved harvesting donor tissue from another part of the mouth and sewing it into place. The Pinhole Surgical Technique is a modern technology that offers a wide range of benefits for patients, and makes for a much better experience in treatment.  
Developed and patented by Dr. John Chao, DDS, MADG, the Pinhole Surgical Technique is a minimally invasive method to move the patient's gum tissue downwards to cover the exposed root. During pinhole surgery, a tiny incision is made above the affected tooth or teeth. To move the gum tissue, Dr. Guzman will insert proprietary tools through this incision and push the gum tissue downwards to cover any exposure. The moved gum tissue is held in place with tiny strips of collagen, which encourage healing and keep the tissue stable as it heals. Dr Guzman at Dental Partners of Boston has received specialized training on the pinhole surgical technique from Dr. Chao himself. This allows him to help many patients who may have serious gum recession.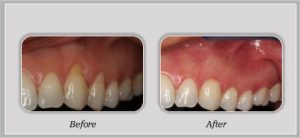 Amazing Benefits of Pinhole Surgery
Pinhole surgery has a wide range of benefits for Boston dental patients. Here are just a few reasons the pinhole surgical technique is preferred over traditional gum recession surgery at Dental Partners of Boston.
Faster Treatment Time
Unlike traditional gum grafting surgery, which allowed dentists to treat one or two teeth at a time, the pinhole surgical technique gives periodontists the chance to treat up to 12 teeth at a time, speeding the procedure and helping patients to avoid additional office visits and multiple recovery periods.
No Stitches
One of the biggest benefits of pinhole surgery is that it's a stitch-free procedure, which means that patients won't have to take care of a large oral wound. Additionally, since pinhole surgery doesn't require tissue from a donor site, the chances of infection are reduced considerably.
Quicker Recovery
Although some patients experience slight bruising and swelling after pinhole surgery, the recovery is very straightforward. In fact, many patients return to their normal routine as soon as the day after surgery.  
If you think that you might have gum recession, schedule an appointment with the Dental Partners of Boston today to meet with Dr. Guzman, and see if you are a candidate for the pinhole surgical technique. We can help make your smile healthier and allow you to feel much more comfortable and beautiful!