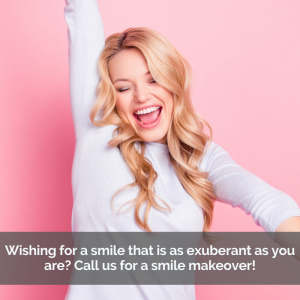 Your smile is one of the first things a person notices about you. It brightens your countenance and represents a portion of your personality. Your teeth are crucial for chewing, of course, but they're also an aesthetic factor. If you feel less than confident about your smile, you can contact us to schedule a consultation about getting a full smile makeover.
Our dentists in Boston try to make full smile makeovers accessible to anyone who wants a better smile. We want you to feel confident about smiling and loving showing off your teeth. A smile makeover really can help you gain your smiling confidence, and help you live life to the fullest.
What's Involved In A Smile Makeover?
A smile makeover takes into account a lot of aesthetic factors — mostly the shape of your face, hair color, and skin tone. We will take your tooth factors into account as well — tooth length, size, shape, and natural shade.
The dentist will work closely with you to determine what it is that you don't like about your smile and what you would like to improve the most. Some of the most common worries and changes include:
Discoloration: Teeth whitening, veneers, and tooth-colored fillings bring back natural color or cover up discoloration.
Crooked teeth: Braces or Invisalign aligners can straighten teeth.
Missing teeth: Implants, dental bridges, or dentures can fill the gaps and bring health and balance back to your smile.
Looking After Your New Smile
Once your smile makeover is complete, you should modify or change your oral hygiene habits to better maintain the best results. Here are some suggested changes:
Brush your teeth three times a day.
Start using a non-abrasive toothpaste to ensure you don't scratch or mark your teeth.
Floss regularly. After any smile makeover, unless your dentist says otherwise, such as during recovery after dental implants, you should floss regularly.
Avoid foods high in sugar and that may stain your teeth. Also, avoid smoking that will also stain your teeth.
Contact Us Today!
No matter why you want a smile makeover, we can sit down and discuss your options. Dental Partners of Boston has received several awards year after year, including again, and most recently, Boston Top Dentist 2020 from Boston magazine. We know how to get results because we have the team, talent, and technology to do so. Get in touch with us to talk about your smile and how we can help improve it.