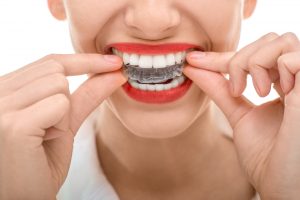 At Dental Partners of Boston, we provide a high quality range of services for each of our patients. We listen to their needs and do our best to provide individualized services. We offer adult orthodontics in Boston along with orthodontic services for teenagers and children.
Reasons Why People Want Adult Braces Vary
If you are an adult who never had braces, or maybe you had them but the results weren't what you wanted, we have the orthodontic options you are looking for. It is actually quite common for adults to receive orthodontic care including braces. One in five orthodontic patients is an adult.
There are many problems that may need to be addressed for adult patients including fixing crowded teeth or bad bites, including overbites and underbites. Without treating these problems, they become worse over time. This can lead to gum disease, tooth loss, pain, and tooth decay. Also, many adult patients want orthodontic services for cosmetic reasons. If you are looking for a straighter smile, we can provide you with braces to work towards getting the cosmetic results you desire.
Dental Partners of Boston provides convenient orthodontic treatments of a variety of kinds. Some of our options are even invisible to the eye so that these procedures can fit with your busy lifestyle. We have Invisalign braces that are transparent and straighten teeth without metal wires or bands.
Can you get braces as an adult? Of course!
Orthodontics is a branch of dentistry that is all about preventing and treating crooked and imbalanced teeth and bites. Crooked, unaligned teeth can be hard to clean and can lead to tooth decay, gum disease, and eventually tooth loss if not treated. Some people may also have teeth problems that contribute to stress on gum tissue and the jawbone which can lead to pain and other dental problems.
At our Boston office, our orthodontists will work with you and coordinate with your other specialists such as oral surgeons, endodontists, and family dentists to make sure you get an individualized treatment plan. We are committed to giving you customized care that you can count on.
Give us a call to find out about adult orthodontics options.
We are happy to provide you with more information or schedule an appointment for you at your earliest convenience. We offer a wide range of orthodontic treatment options for adults.

Thank you for visiting us!