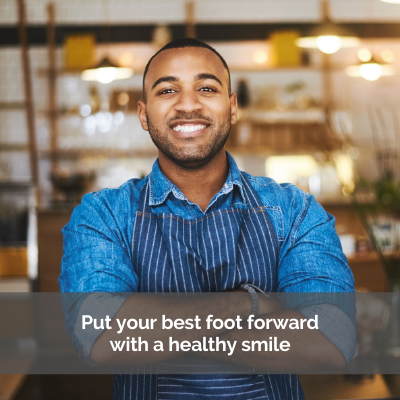 First impressions rely heavily on the way we look. We're taught from a very young age to put our "best foot forward" when we're meeting new people or trying to impress someone else. Your smile is an important part of that look, which means you'll feel most confident when it looks bright, white, and even.
Most of us need a little cosmetic dentistry help here and there with our smile, and that's what our team at the Dental Partners of Boston does best!
What Should I Do if My Teeth Are Chipped and/or Cracked?
Teeth can become damaged for several reasons, including an accident, long-term wear from dental misalignment, or an awkward bite on something too hard. Veneers help visually "erase" the look of cracked or chipped teeth while restoring a balanced bite pattern. This also helps eliminate future wear for surrounding teeth and can even help with overall jaw comfort.
After your initial visit and exam, our team will work with you to make suggestions based on your desired results and current dental conditions. Our patient professionals are always happy to answer any questions you have about the dental restoration procedure(s) we recommend, as well as the best ways to care for your new veneers, crowns, caps, or other cosmetic dentistry procedures.
What Should I Do If My Teeth Are Stained or Discolored?
Delicious food and beverages are one of the best parts of life, but they can leave their mark on your teeth. If you enjoy beverages like wine and coffee regularly, chances are you've experienced some staining or discoloration over time. Other factors, like age, overall dental health, and some medical conditions can also affect the brightness or whiteness of your smile.
Our office prides itself on having a number of safe, effective methods for teeth whitening, both in-office as well as in take-home kits. Our dental team will walk you through the benefits and considerations of each option that fits your needs, letting you find the perfect whitening solution for your schedule and desired level of brightening.
What Should I Do If I Have Missing Teeth?
Even in an otherwise brilliant smile, a missing tooth or teeth can steal the spotlight in a difficult way. If you're eager to restore your smile, great news, we can help! Whether it's a cap, crowns, bridges, or implants, you likely have more options than you imagine when it comes to dental restoration for missing teeth.
After your examination and x-rays, our team will let you know what to expect and help put your mind at ease by answering all your questions. After a visit with us, you'll know how long your procedures will take, as well as the best way to keep your new, complete smile looking great for years to come.
Want to stop hiding your smile in selfies? It's time to let it shine! Contact Dental Partners of Boston today to find the best solutions to chipped, discolored, or missing teeth, once and for all.