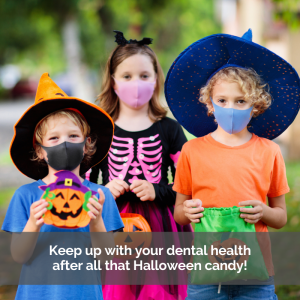 Halloween might look a little different this year for many of us. Due to COVID-19, big Halloween parties might be out of the question, and not everyone will feel safe out and about trick or treating. However, there is no getting away from the fact that Halloween means candy! So whether you are going to be out trick or treating with your kids or staying home and watching Halloween movies, the chances are you will be enjoying some candy. But how can you best care for their teeth, and yours, with the extra sugar? 
Dental Crowns and Sticky Candy
If you are having sticky and chewy candy, you should take extra care. These kinds of candies can easily stick to your teeth, and as a result, they can pull out crowns and fillings. If this does happen, it can be quite painful, so calling for an emergency dental appointment with one of the best dentists may be necessary. If you have a lot of fillings or crowns, then these kinds of candies might be best to avoid altogether. 
Cracked Teeth and Hard Candy
A popular choice at Halloween is hard candies. These should also be eaten with caution, as given the name, they can break teeth if you are not careful. If you are going to have hard candy, then it is best to suck them, although this isn't ideal. The reason being is that hard candy is a feast for the bacteria that live in your mouth. The longer that the candies are in your mouth being sucked, the more time it gives the bacteria to get to work. 
Don't Forget to Brush and Floss Your Teeth
We know that kids love candy, and especially like to enjoy some at this time of year. So it is a good idea to use this holiday as a chance to teach and remind your kids about just how important it is to take care of their teeth. The candy stash can last for a long time, so reminding them just how important it is to brush teeth and to floss after eating candy is a good idea. 
Chocolate vs Hard or Chewy Candy
Choosing chocolate can be a better choice than candy. Chewy candy and hard candy can stay in your mouth for a long time, whereas chocolate does not last for as long, which is better for teeth. Chocolate also washes off teeth more easily. Another option is that dark chocolate also tends to have a lot less sugar than other candy, so if you are going to treat yourself this Halloween, dark chocolate could be the best option for the health of your teeth. 
The key thing to remember is that you should always brush your teeth after eating anything that is particularly sugary. Getting into the habit of doing this, as adults and children, can make a difference to your teeth. 
At Dental Partners of Boston, one of the best dentists in Boston, we offer comprehensive services to keep you at your dental best. Why not get in touch with us today and schedule an appointment? Wishing you all a safe and Happy Halloween!