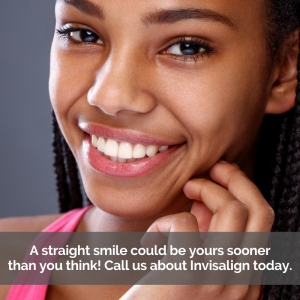 A smile is an important thing. when we smile, we look more approachable, feel happier, and make those around us feel more positive. A smile is contagious. Helping people with their smiles is why our orthodontist, Dr. Yael Frydman loves her job and recommends Invisalign® aligners.
"I love orthodontics. I think it's the 'happy specialty.' It's something people go through to improve themselves, their appearance, their self esteem." -Dr. Frydman.
What Are the Benefits of Invisalign® Aligners
Uneven teeth can cause problems with your bite alignment, causing headaches and trouble chewing. Aside from health troubles, a less than gorgeous smile can sometimes damage a person's self-esteem. Smiling makes us feel good, but if you avoid smiling because you're embarrassed by your teeth, your confidence suffers. Our team wants to help you get your confidence levels to soar by working with you to achieve the smile of your dreams.
Dr. Frydman recommends the use of Invisalign® invisible braces to straighten crooked teeth and correct bite problems. With the use of Invisalign® clear plastic aligners, a straight smile can be yours in as few as six months, depending on your individual needs and goals.
How Does It Work?
The plastic aligners that are unique to Invisalign® are custom-molded and removable. Dr. Frydman will take a 3D image of your mouth so she can create Invisalign® aligners custom-fitted to you. As you wear the aligners, your teeth will gradually move into the desired alignment. There are different sets of aligners that you will wear throughout the period of up to 6 months or shorter. Each aligner focuses on a different set of teeth. At the end of the procedure you'll find yourself with a beautiful smile you're excited to show off.
Are Invisalign® Aligners Comfortable?
Yes, Invisalign® aligners are comfortable to wear because they aren't made with wires or brackets, which are irritating and sometimes painful. Because they are clear, they are also very discreet. Many people won't even notice you're wearing them, which is preferable for adults as they go about their lives. You can wear them at home or at work or wherever you go without it being obvious that you are wearing braces.
How Do I Care for Them?
Invisalign® aligners are easy to care for since they are removable. It is recommended that you were them for 20-22 hours a day for the best results. Remove them for eating, drinking, brushing, and flossing. Your teeth are also easier to care for because you don't have wires and brackets to brush around as you would with wired braces.
How Do I Get Invisalign® Invisible Aligners?
When you contact us for a consultation with Dr. Frydman, she will ask you what you would like to see differently in your smile. She will help you find the best treatment for the results you are looking for. Dr. Frydman and our team here at Dental Partners of Boston are ready to meet you and answer all your questions! Please contact us today to schedule an appointment.