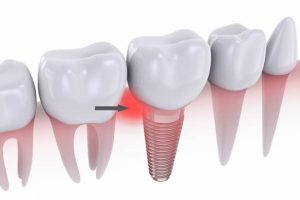 At Dental Partners of Boston, we are committed to giving each one of our patient's individualized care and attention. We listen to your concerns and work with you to develop a customized plan. We want you to have the best dental care possible. Therefore, we work to make our office welcoming and comforting.
Part of the work we do is to educate our patients on different dental procedures and conditions. One condition that is not as well known is peri-implant disease. We offer dental implants in Boston, and, as such, we know the importance of educating patients on the risk of peri-implant disease. Patients develop this disease if they don't properly care for their dental implants.
What Is Peri-implant Disease?
Gum disease issues can lead to your dentist needing to remove certain teeth. When this happens replacement teeth, via implant dentistry, replace the natural tooth the dentist removes.
Dental implants are functional and look like natural teeth. It is easy to think that at this point there is no more risk of periodontal disease, but, unfortunately, that is not always the case. Dental implants require care and upkeep just like regular teeth do. If patients do not regularly care for their dental implants, this can lead to peri-implant disease.
Peri-Implant Disease
This condition is inflammation of the gums around dental implants. The process and impact are similar to the periodontal disease on natural teeth. Bacteria can grow and form at the base of the implant and cause similar pain, swelling, and bleeding that periodontal disease causes.
Follow Up Care After Dental Implants
If you have received dental implants it is important to keep up with the maintenance and care. The biological and environmental factors that contributed to your gums becoming unhealthy in the past are still risk factors. It is important to monitor and manage your dental health in order to not have the same problems crop up again.
Schedule an Appointment with Dental Partners of Boston
If you have recently received dental implants, make sure and keep up with their care. If you have any questions or feel like your gums are inflamed around your implants, schedule an appointment with us right away.