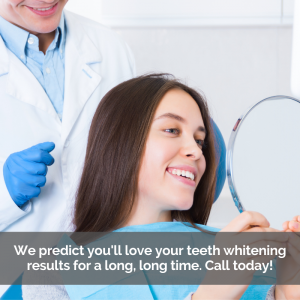 Have you noticed that your teeth have become a yellowish color, or that they have stains? This can happen over time, and it can negatively affect a person's confidence. We often say that the first thing we notice about another person is his or her smile, but what if your smile doesn't present the good first impression you wish it did? Teeth whitening may be the solution you're looking for.
What Can Cause Teeth to Stain?
There are a number of different reasons why you have stains on your teeth. One of the main causes is food and drink. Red wine, dark soda, tea, and coffee are all associated with discolored teeth. Tobacco can also contribute to this problem.
Another reason why people have discolored teeth is because of poor dental hygiene—inadequate flossing or brushing, especially after having eaten some of the above-mentioned food. In addition, some medical treatments can result in teeth stains, and certain types of medicines (antipsychotic medications, antihistamines, chemotherapy, and some high blood pressure medicines). We can help you identify if any of these may be affecting the color of your teeth and the health of your gums.
Disease or trauma might also impact the natural white shades of your teeth. A tooth that has died following trauma will usually look a greyish color.
Considered Professional Teeth Whitening
If you are unhappy with the color of your teeth, it is worth contacting us to inquire about professional teeth whitening. We can help you achieve a strong, beautiful, white smile, which will restore your teeth to whiteness of your choosing. We'll take some time to discuss your goals for your smile during our consultation, and help you pick a shade you'll be delighted with. You'll feel great about smiling again.
There are many teeth whitening products on the market today. You may be considering purchasing one. These do-it-yourself kits have limited benefits. Our patients who have tried them tell us the kits didn't give them the whiteness they expected, nor did any effects last long. Everyone's teeth are different, and these kits can't deliver the results they promise. They may even result in further damage in some cases. Coming in to see one of our dentists here at Dental Partners of Boston will give you a professional partner who can help determine what sort of treatment is going to be best for you and your individual situation. We can also deliver the results that you expect after whitening treatments are complete.
If your teeth are stained or discolored so much that you feel shy about smiling, habitually hiding your teeth when you talk or laugh, please contact us for an exam and consultation about teeth whitening. We will answer all your questions and show you what your options are to restore your gorgeous smile. We predict you will love the results for a long, long time.