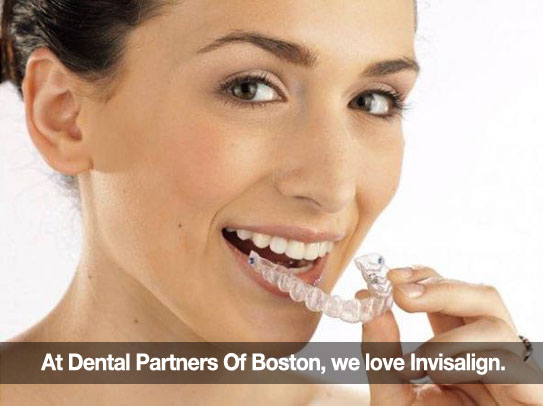 YOU MAY THINK THAT Invisalign is just about avoiding the silver smile. While it's true that that's a great advantage of clear aligners, there's more to it than that. We want to get serious for a second about the reasons that we offer Invisalign for our valued patients here at Dental Partners of Boston.
Some REAL Ways Invisalign Can Benefit You
You'll have better oral hygiene while you're wearing them. Since you take out the trays to eat, and carefully clean your teeth before placing the trays back in, you'll develop some great habits to keep throughout your life.
Your hygienist's job will be much easier. Just as your home care will be easier than it would be with braces, so will your professional cleanings.
Trays can serve a dual purpose, and protect your teeth from night grinding and even sports injuries.
The smooth plastic will be more comfortable than metal wires and brackets, which sometimes cause sores and irritation.
They're removable, so you can eat whatever you want! (As long as you brush afterward)
And of course, there's the looks! For many adults, the biggest thing holding them back is the fear of reverting back to an awkward teenager. With Invisalign, you don't have to let that stop you.
Orthodontic Treatment Can Improve Your Oral Health
Whether you choose Invisalign or traditional braces from our practice, the results will be spectacular. Even more than the aesthetic benefits, orthodontic treatment can improve your oral health in the long run. It can solve (or prevent) problems with malocclusion like TMD and uneven wear on your teeth. It also gets rid of crowded teeth, which give plaque places to hide, even when you brush your teeth.
So ask us about our options for adult orthodontics. You can call today for a smile consultation, where we can determine whether or not Invisalign is right for you.
We can't thank you enough for your trust and participation in our practice. We appreciate you!