---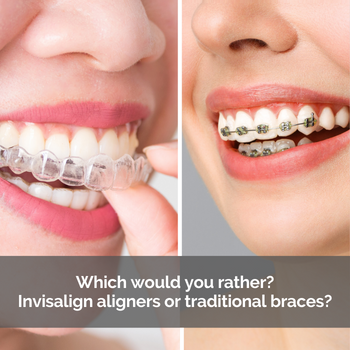 If you missed the "braces train" when you were in middle school, you may be wondering if it's too late for you to get straighter teeth as an adult. Cosmetic dentistry has you covered.
At Dental Partners of Boston, we want to say that no matter if you're in your 30s or 60s, it's never too late to consider your options to straighten your teeth. But, what should you choose with all the orthodontic options on the market? 
Today, we're going to talk about the differences between traditional braces and Invisalign to you can make an educated decision for yourself.
Invisalign vs. Braces: What's the Difference?
Invisalign is a type of orthodontic treatment that uses a series of clear aligners to gradually move your teeth into the right position. Each aligner is custom-made based on an impression of your teeth. They fit over your teeth and can be removed when you eat or drink. You wear an aligner for about two weeks before receiving the next set in the series.
Another orthodontic option is traditional braces. Braces use metal wires and brackets to align teeth over time too. But, for many patients, braces can feel bulky and uncomfortable making them the "less than ideal" option for many patients in the Boston area. 
 Let's take a look at why our team at Dental Partners of Boston chooses Invisalign for our patients. 
Benefits of Invisalign
Discreet
The main benefit of Invisalign is that it allows patients to get braces on their own terms without having to worry about how long they will be wearing them or how they look while wearing them.
Patients who choose this option also do not have to worry about any embarrassing moments due to possible speech impediments traditional braces cause, which could cause them to avoid social situations.
Comfort
Invisalign is more comfortable than traditional braces because it doesn't require metal brackets and wires. This can allow patients with sensitive mouths to enjoy the benefits of a straighter smile without having to deal with uncomfortable hardware in their mouths.
Removable
The biggest difference between braces and Invisalign is the way they are worn. Braces are permanently cemented to their teeth, while Invisalign aligners are removable and don't require cementing to the teeth at all.
During mealtimes, users can easily take the aligners out so they don't have to worry about what they can and can't eat during treatment. 
Length of Treatment
Invisalign treatment is faster than traditional metal braces — most patients complete treatment within 6 months to a year. If you need orthodontic work as an adult, this could be a big selling point since traditional braces require wearing metal wires every day for a couple of years or more.
Straighter Smiles. Boosted Confidence.
Although there are many orthodontic options that you can consider, we believe that Invisalign is the way to go in many cases. It's great for adults of all ages because it's comfortable, discreet, and has a quicker time to completion than traditional braces. 
Are you ready for a future with a straightened smile? We are too! Schedule a consultation today to find out if Invisalign is the right option for you!
---