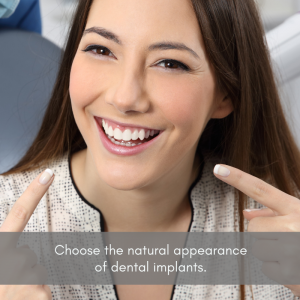 If you have a tooth missing or more than one tooth missing, you're probably thinking about dental implants. That definitely makes sense because in terms of the appearance achieved when dental implants are used, there's really nothing better. They look great and most people won't even be able to tell that they're implants; they'll simply look like a beautiful and healthy set of teeth.
There are plenty of things you need to be aware of before we move ahead with dental implants. And one of the most important things you need to understand is how you might potentially need a bone graft. If needed, this procedure is a very common part of having dental implants. The first part of a dental implant is the titanium post that is implanted into the jaw bone to act as the root of your new tooth. But the bone needs to be substantial and dense enough to hold that implant securely. If that's not the case, bone grafts become necessary.
Bone Graft Procedure
As part of the bone graft procedure, Dr. Guzman will take bovine, cadaver, or bone from another part of your body and graft it onto your jaw bone. It's also now possible to use a special grafting material instead of your actual bone. Once the graft in place, it will create new bone that's strong enough to hold the implants securely.
Every patient is different, so we will assess your personal situation to see exactly what kind of procedure needs to be carried out for you to have ultimate success with your dental implants. Some patients will only need very small grafts whereas others will need more. It all depends on the strength and density of your jaw bone.
Once the graft has been completed and enough time has passed for the new bone to be created, strengthening your jaw bone in the process, the dental implant procedure can be carried out. Before you know it, the whole procedure will be complete.
The Benefits of Dental Implants
There are lots of benefits associated with having dental implants put in place. They're very secure once all the relevant bone grafting work has been completed. But the reason why most people choose dental implants over the alternatives is the natural appearance they give your teeth, and the fact that they function just like natural teeth. That's the appearance most patients are concerned about and strive for when teeth replacement becomes necessary.
Dental implants are not temporary fixes; once they're in place, they're there for good. That means there's less hassle for you and you largely look after them in the same way as you would look after natural teeth. There's nothing particularly complicated about them, which is great for you.
Schedule A Consultation
Even if a bone graft and the dental implant procedure might sound a little daunting, you can rest be assured that the effort greatly will improve your quality of life, confidence, and appearance. When a bone graft is a necessary part of getting dental implants, it's still something that's worth considering. Don't hesitate to get in touch with us and schedule a consultation with us. We're more than happy to help you find the solution that's right for you and answer any questions you might have.