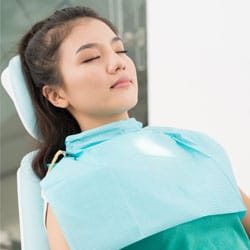 IV sedation dentistry or intravenous sedation dentistry was introduced to help people with dental anxiety. In simple terms, IV sedation means that you are put into a near-sleep state where you are unaware of the procedure.
The dentist administers sedation medication through a simple IV inserted into a vein. Most of our patients enter a deep state of unawareness and are pleased not to recall any aspects of a complicated procedure. Our highly experienced and professional staff will be there to make sure that the entire process goes as smoothly as possible.
Sedating patients allows us to give excellent quality treatment to patients who are exceptionally anxious about a procedure.
What To Expect
Most likely you won't fall fully asleep during your sedation procedure. You should expect to have some awareness. However, you won't be fully conscious of what's going on. Most often you can follow basic verbal commands and respond to the dentist taping you to get your attention. You'll also be able to breathe on your own and won't need to have your heart rate monitored. If your dentist performs a procedure that requires a local anesthetic, such as filling a cavity, the dentist gives the anesthetic after sedation.
Is Sedation Dentistry Right For You?
If you feel like any of the following might describe you, consider talking to our dentists about sedation dentistry.
If you have delayed treatment out of fear or anxiety
Have difficulty with local anesthesia
A sensitive gag reflex
Very sensitive teeth
Complex dental problems requiring extensive treatment
Limited time in your schedule and need multiple procedures
If you are generally in good physical health but feel nervous about going to the dentist, sedation can help.
Your dentist is the person who's best equipped to help you decide whether IV sedation is right for you. It might be that another option, such as inhaled sedation, makes more sense for you. If it's been a while since you've seen your dentist, call us about our dental sedation and if it's a good pick for you.
To avoid needing a major dental procedure in the first place, come in and visit with one of our amazing dentists or oral hygienists to learn how to care for your teeth.
Schedule An Appointment Today
If you are looking for a sedation dentist in Boston, call us today to schedule an appointment! Our cheerful and experienced staff would be more than happy to guide you through the whole process of sedation dentistry.