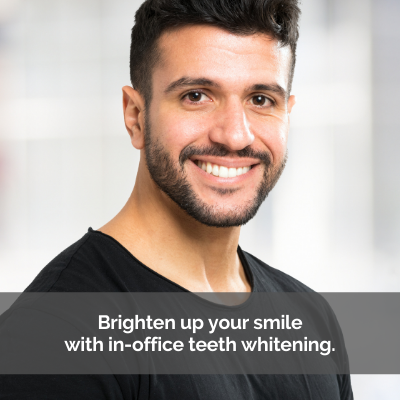 Do you ever feel like your smile could use a teeth-whitening boost? Dental staining and discoloration can happen for a lot of reasons, often from the foods and drinks you love. Everything from pigmented spices to wine to that daily coffee or tea habit may be making your pearly whites look less than pristine.
You may find yourself embarrassed of your tooth color, or more reluctant to smile for pictures or when meeting new people. It's a common problem, but it's also one that many of our patients struggle with.
But don't worry, we've got a great reason to bring that smile back and the team at Dental Partners of Boston is here to help. Our innovative solutions for teeth whitening go beyond the hit-or-miss results and disappointing longevity of "drug store" tooth whitening kits. The professional tooth whitening services we offer in our Boston-area cosmetic dental offices are just what the doctor – or dentist – ordered!
Veneers, Crowns, and Bonding
For teeth that have significant discoloration, damage, or other cosmetic dental problems, the answer may be in techniques like veneers, crowns, or dental bonding. These cosmetic dentistry approaches are used on top of or around your natural teeth, offering a bite and feel that's both comfortable and aesthetically pleasing. Our team will be able to make personalized recommendations for your cosmetic dental treatment and explain each step toward your brighter, whiter smile as we work together.
Tooth Whitening Services
If your teeth appear stained, dull, or discolored, a simple professional tooth whitening appointment may be all it takes to restore their beauty. You may have considered the DIY approach, but most dentists will tell you it can be very risky. "Drug store" tooth whitening kits can actually damage your tooth enamel or even the teeth themselves, and don't come with the help or oversight of a dental professional. At Dental Partners of Boston, we not only offer safe, effective take-home tooth whitening kits, but we also offer comfortable, efficient in-office teeth whitening options too! Our team of dedicated tooth-whitening pros will help you find a solution that works for your schedule and your smile.
Zoom! Teeth Whitening
A popular option with clients looking for fast, effective tooth whitening, our office is pleased to offer Zoom! Whitening services can be performed both in-office, as well as with take-home kits and individualized instruction. Offered by Phillips, Zoom! is the "No.1 patient-requested professional whitening brand in the U.S." and can often be applied and completed in only an hour or less per treatment.
Are you ready to enjoy a brighter, whiter smile on your time and terms? At Dental Partners of Boston, we can't wait to help your teeth look their best, all while maintaining great dental health and hygiene. Don't spend another minute hiding your grin because of discoloration or staining: book your teeth whitening consultation with us today!