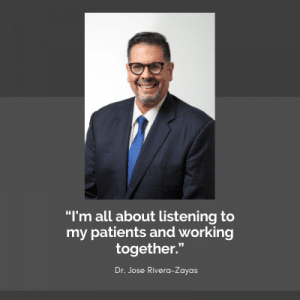 Dr. Jose L. Rivera-Zayas is a great addition to our team made up of some of the best dentists in Boston. Join us at Dental Partners of Boston in welcoming him.
Dr. Rivera-Zayas is a seasoned prosthodontist. Prosthodontists are dentists that have graduated from dental school and gone on to complete additional years of specialized education and training in prosthodontics. Some of this training includes the restoration of natural teeth and the replacement of missing teeth using a variety of functional and cosmetic processes.
A Cosmetic, Restorative, and Implant Dentist
Dr. Rivera-Zayas graduated from Temple University School of Dentistry in 1993, where he obtained his DMD degree. He then continued his education and training at the University of Puerto Rico School of Dental Medicine, where he received a certificate in Prosthodontics. Since 1996, he has been serving in private practice performing cosmetic, restorative, and implant dentistry.
Over the years, Dr. Rivera-Zayas has put his advanced training to good use. He has gained extensive experience doing single dental implant restorations, full mouth rehabilitations, removable dentistry (complete and partial dentures), hybrid dental restorations, porcelain veneers, no-metal crowns, as well as restorative dentistry.
A Teacher at Heart and in Practice
When you learn more about Dr. Rivera-Zayas's background, you can see that he is a teacher in his heart and in practice. He was appointed as a Clinical Instructor in the University of Puerto Rico School of Dental Medicine. Dr. Rivera-Zayas has written numerous magazine articles on a variety of dental topics, including dental whitening, dental implants, porcelain veneers, and cosmetic dentistry. He is a certified speaker for Zimmer Biomet, which is one of the largest dental implant companies located in Palm Beach Florida. Additionally, he has also served as a dental consultant for Ritter Dental Implants and as a legal dental consultant. Dr. Rivera-Zayas has also lectured both locally and internationally.
While Dr. Rivera-Zayas has done plenty of talking over the years giving lectures, he really champions the art of being a good listener. He has said: "In order to take dentistry to the next level, I'm all about listening to my patients and working together to achieve the most aesthetic and expected results." He wants to hear of your hopes and wishes.
Memberships
Dr. Rivera-Zayas is an active member of The American College of Prosthodontists, the Massachusetts Dental Society, the American Dental Association, and the College of Dental Surgeons of Puerto Rico. He has active dental licenses for the states of Massachusetts, Florida, and the Commonwealth of Puerto Rico.
Personal Interests
In his spare time, he loves to spend time with his wife and family traveling and visiting new places. He is also an automobile enthusiast and loves posting his patient's smiles on social media. You may be next! But only with your permission and encouragement, of course.
Come meet Dr. Jose Rivera-Zayas and the other members of our team at Dental Partners of Boston. With our diverse training and broad experience, we are among the best dentists in Boston. Our offices are modern and well-equipped including an in-house lab to help minimize the time it takes to meet your needs. We can help you set aesthetic improvement goals and create a treatment plan to help ensure you have the best possible smile. Please contact us to schedule an appointment today.