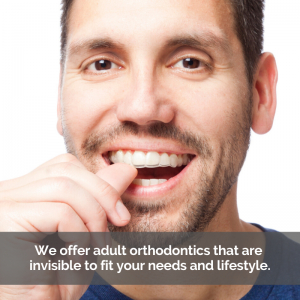 The world of dentistry has made massive strides over the last twenty years. We provide highly successful services such as adult orthodontics that have beautiful, long-lasting results. We continually add top talent to our team of experienced dental professionals so our clients get the results they seek. For this reason, we have been nominated Top Dentist in Boston Magazine more than once.
Our own Dr. Yael Frydman is a Boston Top Dentist who provides orthodontics for adults who want to straighten their teeth. Most alignment dental work takes place over the course of a person's childhood, adolescence, and young adulthood. However, some adults may not have had access to dental care in their adolescence. Adults sometimes lack confidence in the way their teeth appear and therefore hesitate to seek solutions. It's important to know that 1 in 5 of Dr. Frydman's patients are adults! In other words, adult orthodontics is common.
However, braces themselves can be perceived as unfashionable and an inconvenient dental tool. We understand and empathize. Thankfully, we have many other alternatives available, including the best discreet braces for adults including Invisalign.
Highly recommended
Brian H.
★★★★★

Dr. O'Toole and his staff are extremely competent; they take the time to explain the process, their findings and options. They are also very pleasant and do not attempt any 'hard sell'. I recommend them.
Discreet Braces
Almost 20% of those who wear braces are those making use of adult orthodontics care. With this in mind, there is no shame in wearing braces for adults to gain more confidence in your smile. But what options are there?
Invisalign Clear Aligners
Invisalign is a hugely popular and proven form of teeth adjustment, helping to straighten misaligned teeth in as little as six months. These aligners are clear plastic and custom-made for your mouth so they are virtually unnoticeable. Your dentist uses 3D imaging or impressions of your mouth to create the Invisalign aligners. The snap-on aligners fit comfortably within your mouth. They are, far and above, the most popular choice for discreet dental orthodontic care available today.
Clear Braces
Clear braces are traditional braces that offer clear designs. They are much less noticeable than traditional metal braces and provide all of the alignment force of metal braces. They are more than worth your attention.
Ceramic Braces
Ceramic braces are simply ceramic instead of metal brackets that help fix bite problems. As the brackets are completely transparent they allow the natural enamel of your teeth to shine through. The brackets attach with wires and rubber bands just like metal braces.
Lingual Braces
Lingual braces sit behind the teeth, allowing them to remain secure yet mostly invisible. They are a popular option for those who return for several fittings over the years.
Why Choose Dental Partners of Boston?
As a group practice, we have an exacting approach and high standards relating to all practices of dentistry. We understand the sensitive nature of dental work. We are very interested in helping adults improve their dental health and the cosmetic appearance of their smiles. Please contact us today to discuss how we can help you achieve the beautiful smile you wish for.