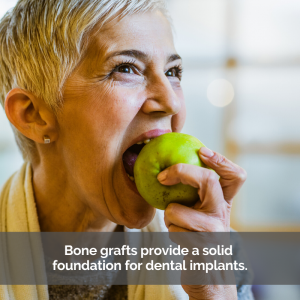 Do you want to find out more about bone grafts and how they help your oral health? In this blog post, we'll look at the different types of bone grafts and why you may need it when getting a dental implant.
What Are They And Why Do You Need Them?
A bone graft is a solid foundation on which we will apply a dental implant. Usually, they are needed because you suffer from a form of gum disease and have left it for too long. As a result, the bacteria eat away at the jawbone and surrounding teeth. The graft allows your dentist to repair or replace your teeth with implants.
Removing a tooth isn't always an option as it can make depressions and indentations in the bone more pronounced. Therefore, bone grafts eliminate the need to take out teeth and damage your jaw even more.
What Happens If You Don't Get A Bone Graft?
Usually, patients that don't opt for a bone graft may choose other options for a tooth or teeth replacement. A different option to consider for a tooth replacement is to get a dental bridge. However, a dental bridge requires a health healthy set of teeth on either side of the gap. These healthy teeth are needed to provide a solid anchor for the bridge. This is not always an option and also requires reshaping the healthy teeth on both sides to place dental crowns as the anchors. A dental crown also does not prevent bone loss from the missing tooth since the crown does not attach to the bone at the root level.
In extreme situations, your jawbone may recede to the point you lose facial contour. When this happens, the only way to replace it is with a bone graft.
Bone grafts also play a significant role in making new teeth possible. Without the foundations to build on, your periodontist won't be able to make implants stay firmly in place, even with new applicators such as biologically active gels.
The Types Of Bone Grafts
There are three main types of bone grafts:
Particulate

Block

Sinus lift procedures
Particulate Grafts
A particulate bone graft is when small shards of bone are placed around a tooth to hold it in place. The particles add extra stability, making particulate grafts perfect for small sockets and single teeth.
Block Grafts
Block bone grafts build on particulate by using bone particles in blocks. They are used for significant shrinkage as they can reduce the amount by up to 25%. Without significantly building up the bone, there is no way to receive a dental implant.
Sinus Lift Procedures
Sinus lifts are used for extreme cases where the cavity is too close to the jawbone. As a result, a dentist must lift back the membrane to place a bone graft to create more space. This is typically done if there is fewer than 5mm between the cavity and jaw.
How Long Do Bone Grafts Take to Heal?
For major bone graft surgery, you will need to wait three to six months to determine whether the graft is stable enough for dental implants. Minor bone grafts can be done during the procedure, but only if your periodontist believes it's suitable.
Dental Partners of Boston Can Help
Do you suffer from tooth loss? Is your jawline receding? If so, you may need a bone graft to improve your wellbeing. At Dental Partners of Boston, you can schedule a consultation and we'll be happy to address all your questions. Please contact us today.