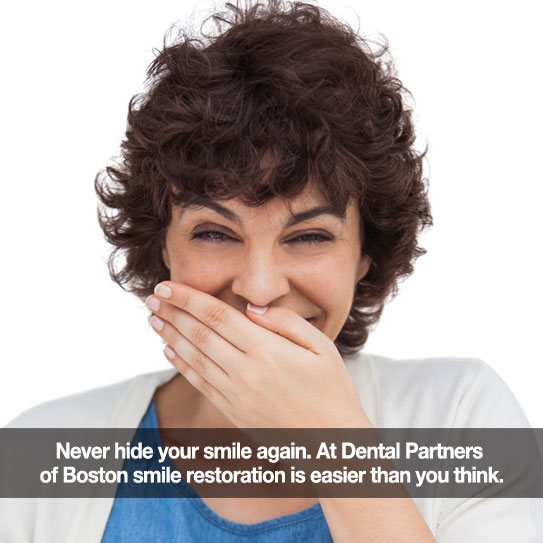 LIFE CAN BE HARD ON YOUR SMILE. It could be that decay or gum disease has compromised a tooth – or even caused you to lose one. Or maybe, while you were eating or playing basketball, one of your teeth chipped. Sometimes, you're juts concerned about the overall impression of worn, tired teeth.
Here at Dental Partners of Boston, we've helped a lot of patients reclaim their smiles. It's something we really believe in, because we've seen the power it has to change someone's relationships, their mood, and their life.
Repairing Your Smile May Be Easier Than You Think
Many people hesitate to take steps towards repairing their smile, worried that it will be too big of an undertaking. However, our team can make it a great experience for you.
1. Our experienced team ensures the best possible results with an efficient plan.
2. We have a full range of cosmetic and restorative services right here in our office, which means that whether you need a crown, implant, veneers, or periodontal aid, we can take care of it.
3. Our modern technology will probably surprise you – for example, CEREC makes perfectly-formed permanent crowns in under an hour. You can make a major change in just one visit to our practice.
It's Not Just About Looks…
Remember, taking care of your smile isn't just cosmetic. For example, replacing a missing tooth is important for the health of your neighboring teeth, the balance of your bite, and the wellbeing of your gum and bone support.
Be Proud Of Your Smile Again
So… why are you still hiding your smile? Come in for a consultation. We'll listen and make a plan that works for you – whether you're ready for some big changes, or you just have something small that's been bugging you.
Thanks so much for being a part of our practice. We're grateful for the opportunity to care for you and your smile!