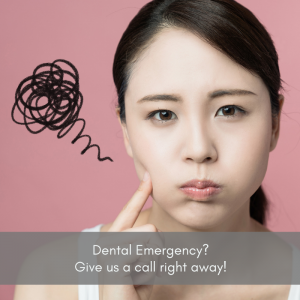 All kinds of accidents can happen at home, work, sports, and while you're on the go. Some of these accidents might impact your teeth. It's important to know what to do and how to respond if you do find yourself dealing with an unexpected dental emergency. Acting fast and taking the right steps can have a lasting positive outcome! Read on to find out how to respond to the dental emergencies below.
Knocked Out Adult Tooth
You should come in to see us as soon as you possibly can when an adult tooth is knocked out. But what do you do with the tooth? It's important to keep it moist at all times. You can do that by putting it back in place and if it doesn't stay there, hold it between your cheek and gums. You can also put the tooth in a glass of milk, that'll do the job too.
Cracked Tooth
When you crack a tooth, the thing you'll want to do right away is to reduce or prevent swelling. This can be done by rinsing out your mouth with warm water and cleaning the area where the cracked tooth is. You can also cold compresses on the area to keep that swelling at bay. Call our office to schedule an appointment as soon as you can.
Bitten Tongue or Lip
The shock and intense pain that comes when you accidentally bite down hard on your tongue or lip can really take you aback. It will pass soon but to help the process, you should start by washing your mouth or lip with water. After that, you should apply a cold compress to take some of that pain away and help it pass a little quicker.
Toothache
Toothache can be a real source of frustration and pain for many people. You should start by washing out your mouth with warm water to remove anything that might be causing irritation. After that, you should floss in the area where the toothache is located. If neither of these help alleviate the pain you should call in for an appointment. If the pain is intense and persistent, don't wait and hope for it to go away. It can be potentially something serious and we want to ensure that you don't run the risk of having to extract your tooth.
Removing Objects Stuck in the Teeth and Mouth
If you have something stuck between your teeth, the first thing you should do is floss. It's great at getting in those spaces where nothing else can. You'll be able to remove most food items or other things that might be stuck between your teeth in no time at all. You should never use sharp objects to remove things stuck in your teeth or mouth. If necessary, schedule an appointment for help if flossing doesn't fully remove the object or food particle.
Take The Proper Steps to Protect Your Teeth
It's also a good idea to do more to protect your teeth so you don't find yourself in these situations to begin with. For example, you should always be sure to wear a custom mouth guard when you're playing sports and doing other things where your teeth might be at risk. Remembering not to use your teeth as tools will prevent problems as well. Teeth are for eating and speaking only.
If you need extra support, please don't hesitate to call us! We will most likely be able to get you right in if it is an emergency. If you aren't sure you're experiencing an emergency, contact us anyway. We'll be able to assist you and help you determine the proper steps if you are in fact having a dental emergency.