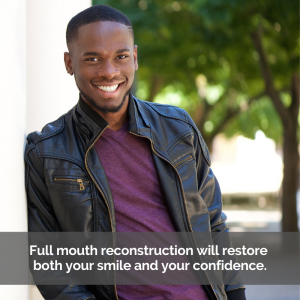 Have you ever had a bad day and were in your worst mood, but then you felt joy when someone made you laugh? Or suddenly grinned back at someone smiling at you? Smiling is contagious. When you smile, your brain releases endorphins, neuropeptides, dopamine, and serotonin, which lowers your heart rate and blood pressure, decrease stress levels, relaxes your body, and lifts your mood.
Of course, you may be holding back your smile if you have damaged teeth, which can lower your self-esteem and confidence. But now is the time to start enjoying all the great benefits of smiling. This is why all of us at Dental Partners of Boston work together to provide you with a full-mouth reconstruction when needed. We want you to smile uninhibitedly.
Smile Restoration with a Full Mouth Reconstruction
Full mouth reconstruction is one of the most complex procedures in dentistry. It involves a series of procedures, which solve severe dental problems and cosmetic concerns. Although the processes involved aren't all cosmetic, it can include some cosmetic fixes, such as teeth whitening as part of the treatment.
You may consider consulting with us about a full mouth reconstruction procedure if:
You have tooth damage following gum recession or gum disease.
An accident that has caused damage to your mouth or loss of teeth.
Your teeth have become worn down by tooth grinding or acid erosion from food, beverages, or acid reflux.
If you're experiencing jaw pain or headaches caused by jaw misalignment
What Full Mouth Reconstruction Procedures Will You Need?
While a full mouth reconstruction may be necessary to restore your oral health and improve your cosmetic concerns, no two procedures are alike. Only the Dental Partners of Boston dentist working on your full mouth reconstruction can determine the right procedures for your unique dental needs. However, some of the reconstruction procedures include:
Dental implants
Dental implants are the most permanent dental reconstruction method. The procedure involves the placement of a titanium root in the jawbone, with a crown over the implants. This procedure restores a significant amount of functionality, which means you can eat your favorite foods without experiencing any pain or difficulties. What's more, implants help prevent bone resorption.
Dentures
Dentures are artificial arches of removable upper and lower teeth. Most patients can adapt well to upper dentures because of the suction created between the denture base and the palate. However, lower dentures may require an adhesive.
Although dentures are a popular full-mouth reconstruction option, they have some drawbacks. For example, because they're removable, they can shift when eating or chewing. This means that you may not be able to eat your favorite foods. Also, they don't prevent bone resorption.
Dental Crowns
Dental crowns may be an excellent option to restore your smile if you have fractured or decaying teeth. Your prosthodontist will reshape your teeth so that the crown can fit over it. Once your prosthodontist has created your permanent crown, it will be inserted and restore the functionality and appearance of your teeth.
Porcelain veneers
If your front teeth are discolored or misaligned, artificial shells, known as veneers, can be created and placed over your teeth to match the color of your other natural teeth.
Discuss Your Full Mouth Reconstruction Options
Do you suspect that you need extensive dental work to restore your smile and oral health? Take the first step and contact us to schedule a consultation. During this appointment, we will discuss your concerns and needs, and help you determine the right full-mouth reconstruction procedure for you.