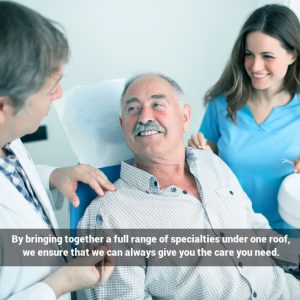 At Dental Partners of Boston, we bring practitioners of all dental specialties under one roof. We've all seen how patients get treatment only to be referred to another office for more treatments from multiple specialists. At Dental Partners of Boston, that will never happen, because all the specialists are here. Our Boston dental office is unique in its assortment of disciplines and capabilities.
For example, someone seeking treatment for advanced periodontitis might visit one office for a diagnosis, another for periodontal cleaning, and then return to the first to get a cavity filled. At Dental Partners of Boston, we offer all of the above procedures, without sending you all over town. Dr Guzman and Dr. Mujica can both treat you in one convenient office. The same is true if you're looking for restorative and cosmetic dentistry. In our offices, we do it all.
At Dental Partners of Boston, our services include:
Dental implants
Porcelain veneers
Dental crowns
Tooth-colored fillings
Dental exams and X-rays
Oral cancer screenings
Teeth whitening
Invisalign
and much, much more.
If you are looking for a dentist in Boston, Dental Partners of Boston is the place to go. No matter how complex your case, we offer in-house treatment and ensure that you get everything you need from doctors you know and trust. Contact us by phone or online to begin!