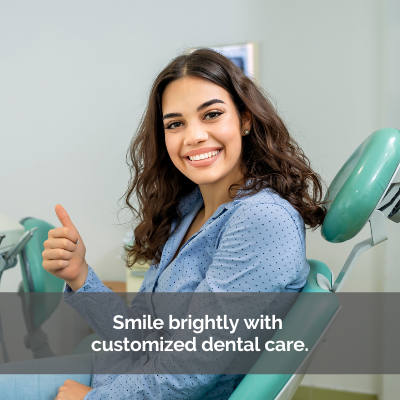 Your smile plays a significant role throughout your life. Everyone has a unique smile since each tooth is shaped uniquely depending on genetics and daily habits. There are so many ways that dentists use to preserve oral health and natural beauty. Unfortunately, treatments that may have worked for someone else may not suit your needs, and this is where customized dental care comes in. It is a necessary feature for anyone who wants to have that bright smile they have always wanted.
As summer has come to an end and you are planning for the fall season, this is the time when you start to think about the holiday activities that are on the horizon. At the same time, after a summer fully packed with activities, it is worth getting your oral health in check. Thanks to customized dental care, you can have your set of perfectly white teeth and keep them protected throughout the upcoming season. Here are some of the options you should consider:
Try Invisalign
Everyone wants a perfectly straight smile. So what if we told you it is achievable without dealing with the troubles of metallic braces? It is possible! Invisalign inconspicuously straightens your teeth quicker than the traditional braces. Within six months, you will be good to go. Thanks to custom-molded and removable aligners, your comfort and convenience are not compromised. Furthermore, Invisalign uses clear aligners, which are not noticeable by everyone; you can easily brush or floss since they are removable, and in under a year, your own teeth can be straightened. Everyone deserves a beautiful smile, and Invisalign is one way to achieve that.
Custom Sports Guard
As the kids participate in sports, a custom sports guard is the perfect protective device to use when engaging in athletic activities. We can create effective guards and make them comfortable to wear. Since they are custom, they conform to the shape of the mouth and bite perfectly. The good thing about having a custom sports guard reduces the risk of tongue, mouth, and lip injuries. Likewise, you will not have to worry about chipped, broken, and damaged teeth.
Teeth Whitening
Anyone who wants a touch-up at the end of summer should consider teeth whitening. At Dental Partners of Boston, your teeth whitening can go up to eight shades whiter, giving you that perfect smile you crave for. Additionally, you get individualized care, safer professional treatments, access to better and more potent products, and more excellent results.
Everyone deserves a smile they can be proud of and not ashamed to share it. Through customized dental care, you get to address many conditions and achieve the brightest smile possible. With whiter and straighter teeth, you can build your confidence and be happier with your smile. Contact us today!