---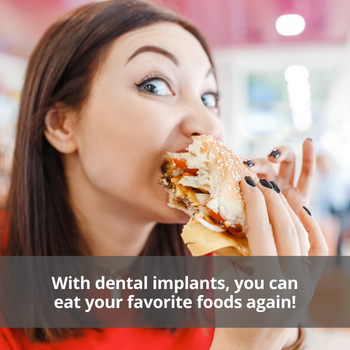 Dental implants replace missing teeth. They feel and act just like natural teeth, letting you live life the way you want to.
Oral hygiene is imperative to overall health – but it is often overlooked. People don't find themselves in the dental clinic as often as they should. Infrequent visits to the dental office can lead to decay and gum disease, the main cause of tooth loss in adults. In some cases, periodontal disease therapy is necessary. We also might recommend crowns or bridges, but the best solution is often dental implants.
Use the guide to start the conversation about whether dental implants are right for you. Come in for an appointment to find out if you are a candidate.
What Are Dental Implants?
A dental implant is a replacement for a missing tooth. The implant acts like the root of the tooth and a crown is placed on top that looks and functions identically to a real tooth.
Implants are made of titanium due to their durability and strength. Dental implants can be considered cosmetic dentistry because the implant improves and restores the appearance of your smile. It also helps with general dentistry because it fills the gaps and prevents further dental damage.
Who Is A Good Candidate for Dental Implants?
A good candidate for dental implants has acceptable oral hygiene. You will need healthy gums and an adequate jawbone to support the dental implant. There are measures we can take to help you get ready for a dental implant, such as bone grafting. We are among the best dentists in Boston and we will work together to ensure you get the best solution for your situation. The first step is to come in for an exam and a consultation.
What Are the Advantages of Dental Implants Over Dentures?
The biggest advantage of dental implants over dentures is that they are permanent teeth replacements, unlike dentures. Dentures may need to be removed multiple times during the day and need special steps to keep them clean and make them last.
Dental implants won't fall out while talking or eating as traditional dentures might. Dentures also need occasional re-fitting as your mouth changes over time. Your dental implants will stay firmly inside your mouth, allowing you to eat, speak, and care for your teeth as you normally would.
If you would like to fill the gap in your smile, consider coming in to ask about dental implants. Contact us to set up an appointment for a consultation. Dental implants will change your life, and we'll help you get there!