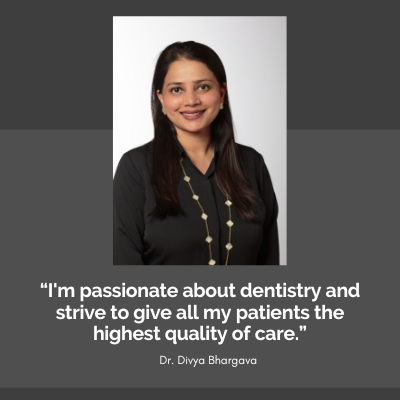 Here at the Dental Partners of Boston, we understand how important your dental health and appearance can be to your overall well-being, including your self-image. That's why we work hard to be the best dentist in Boston for your dental needs, both in terms of creating and protecting a strong, even bite as well as maintaining your picture-perfect pearly whites. Whether you're looking for a simple tooth whitening procedure or more in-depth treatments like cosmetic dental bonding, our Boston-area dental offices are always here to help.
With these goals in mind, we're pleased to welcome Doctor Divya Bhargava to our practice, where she will add her unique skills to our already stellar team of dental professionals. A multinational talent, Dr. Bhargava's career spans more than twenty years on two continents and embraces a patient-centered approach to restorative dentistry that fits perfectly with our practice. In her own words,
I'm passionate about dentistry and strive to give all my patients the highest quality of care. I'm fortunate that I can help people by enhancing their smile, restoring form and function, and thus improving their quality of life.

Doctor Divya Bhargava
Background and Qualifications
Dr. Bhargava's education includes a D.M.D, as well as a Certificate of Advanced Graduate Study (C.A.G.S) from the Advanced Education in General Dentistry Program (A.E.G.D.) at Boston University's Henry Goldman School of Dental Medicine. In addition to these credentials, Dr. Bhargava has also been a member of several professional dental organizations, including the Aesthetic Dentistry Society Singapore (A.D.S.S), where she assisted with both conferences and continuing education courses. She also maintains membership in The American Dental Association and The Academy of General Dentistry.
Using comfortable, modern techniques like digital dentistry for diagnosis and treatment plans, she will be joining the Dental Partners of Boston team to meet our patients' restorative dentistry needs. Her comprehensive clinical skill set includes full-mouth restoration, restoring teeth with ceramic dental veneers, crowns, inlays, onlays, and the installation of dental implants. Dr. Bhargava is also pleased to work with patients suffering from dental-rooted health conditions such as sleep apnea, temporo-mandibular joint ("TMJ") disorders, and snoring.
If you're ready to start your journey to better dental health and a smile you'll want to show the world, contact us at Dental Partners of Boston today to schedule an appointment! We'll be happy to make you an appointment with Dr. Bhargava or any of our other top dentists. We're ready to work with you to earn a reputation as the best dentist in Boston.