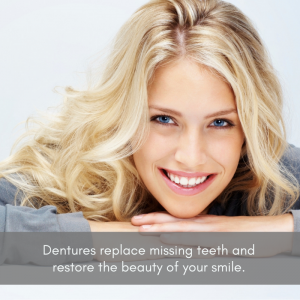 Missing teeth can affect you in a variety of ways. They can make it more difficult to eat and speak, and they can affect your confidence because of how they change your appearance. There are several different solutions for missing teeth, one of which is to have dentures. Unlike options like crowns, bridges and dental implants, dentures are removable artificial teeth. They can replace one or two teeth, several teeth at once or even a whole row of teeth. For many people, they are the most practical option if they want to replace missing teeth.
Types of Denture
There are two main types of denture: partial dentures and full dentures. Partial dentures replace several teeth and act as a removable alternative to bridges. Full dentures replace all teeth at the top or bottom of the mouth once all the natural teeth have been removed.
A conventional full denture is placed in your mouth after remaining teeth are removed. Before putting the denture in, the gums are left to heal, which can take a number of months, and leaves the patient without teeth. An immediate full denture, on the other hand, is inserted as soon as the teeth have been removed, without waiting for all tissues to heal. They must then be realigned after a number of months because the bone will reshape as it heals and the denture will no longer fit.
A partial denture attaches to your natural teeth using a metal framework. They might be combined with crowns, which are placed on the natural teeth to create anchors for the denture.
What Materials Are Dentures Made From?
Dentures are made using a number of materials. The teeth are usually made using porcelain or resin. Various types of resin are generally more durable, but porcelain is still favored by some because it looks and feels natural. Acrylic resin is the material most often used today. The framework or plate of a denture is usually made from hard acrylic resin or a flexible polymer. Sometimes it might be molded from chrome cobalt metal. To create dentures, an impression of the patient's gums is taken and used to create a mold. The mold then forms the basis of a wax model, to which the teeth are attached so it can be tested in the patient's mouth.
Adjusting to New Dentures
New dentures can feel strange at first, but you can soon get used to them. It can take a while for it to feel normal when you eat and talk with them, and they can feel strange in your mouth. However, after a while, you will adjust. If you find that you feel soreness or irritation, seeing your dentist will help you to adjust the problem.
Lifespan of Dentures
Dentures can last a while, but they need to be adjusted as time goes on. They can wear down and need to be adjusted as your mouth naturally changes too. An annual checkup with your dentist will help you to ensure your dentures are in good condition.
Schedule An Appointment Today!
If you are in need of dentures schedule an appointment with Dental Partners of Boston today. Our team of dentists look forward to the opportunity to help you improve your smile.