Is it possible to have a tooth removed and new one placed in the same day? Dr. Guzman can make this happen with modern treatment methods allowing for teeth in a day. At Dental Partners of Boston, we care about long-term solutions to enhance our patients smiles. Our solutions are designed to bring you a new smile, restore your confidence, and boost your self-esteem.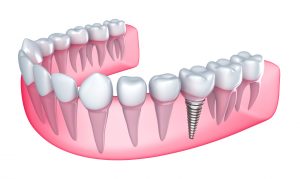 What is a Dental Implant Teeth in a Day Procedure?
So how does this procedure work? When you select teeth in a day in Boston, we focus on creating a patient treatment plan designed specifically for your needs. A dental implant will be inserted into the jawbone, where it will fuse with the bone and become strong. An abutment is placed on gums where a dental crown is attached to it. Dental implants look and feel just like a traditional tooth. Dental implants provide important health benefits as they continue to stimulate the jawbone, allowing it to remain healthy and strong. Without an implant, a missing tooth will simply lead to deterioration of the jawbone.
The Implant Process
To determine if you are healthy enough for dental implants, we will need to examine the area and take x-rays to measure the bone density. As long as the jawbone is healthy, we can do the implant in a day. Proper placement requires precision and skill, which is why you want to trust a provider like Dr. Guzman to handle the implant procedure. A porcelain crown will be created and attached to the dental implant once it has been secured into the jawbone. Typically, the dental implant healing time will take a few days to feel normal and not tender, but the jawbone fusing time frame is normally 6 weeks to 6 months. We will bring you back into the office after a few weeks to check on the healing process to ensure it is strong and healthy. Rarely do dental implants fail, but if there is a concern we will address this with you and determine the best possible treatment.
State-of-the-art Dental Implants
Thanks to modern treatments and methods, dental implants in a day are possible for healthy dental patients. Permanent tooth replacement has revolutionized dentistry as people finally have an option to enhance their smile if they had a tooth extraction. Dental implants are easy to care for as they simply need routine brushing and flossing to remain healthy. Dental implants are one of the most successful dental procedures, with a 98% success rate.
Schedule an Appointment
If you are interested in dental implants, and would like to have a consultation with our dentists schedule an appointment today