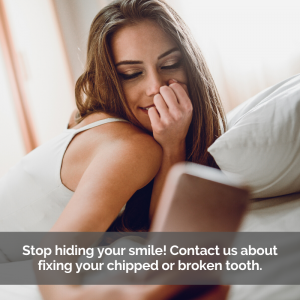 For all the wonders of modern dentistry, one of the biggest challenges dentists face in 2020 is trying to soothe those who feel unable or uncertain about receiving dental treatment. Many believe that certain dental problems are simply issues they must live with, lest they have to encounter extensive reconstructive work.
But the truth is, today modern cosmetic dentistry is more nuanced, exacting, and welcoming than ever. Through attentive care of a patient's dental health, we can prevent major dental issues by resolving them while they are manageable. Modern dentistry can fix problems large and small, but the best path is to start when the patient is young. As the patient grows, the dentist can watch for signs of potential future problems and resolve them early.
Many people seem to believe that living with a chipped or cracked tooth is part of normal wear and tear, but that needn't be the case. In fact, cosmetic dentistry can help repair or replace a chipped or cracked tooth with care, efficiency, and finality. Cracks or chips can happen to anyone.
High-quality service…
Rosaria S.
★★★★★
My 'emergency' visit earlier today could not have been better. I was 'fit in' to a very busy schedule and was taken care of just as though I had been expected for an appointment. Everyone was personable and efficient and thoughtful. Dr.O'Toole came through…. yet again!!! THANK YOU."
Cracked Tooth
There are three common treatments we utilize for cracked teeth. Veneers remedy minor tooth damage while dental implants and root canals are two treatments for major tooth or teeth damage and repair.
Dental Veneers
Dental veneers help strengthen and cover cracks on the front surface of the tooth, while dental crowns remedy other crack orientations. The use of composite resin and laser reaction to help fill and seal a minor crack with care. Both procedures are quick, easy, and help completely resolve the aesthetic and functional issues of minor dental cracks.
Dental Implants
If your dentist feels the tooth is beyond saving, dental implants may be an option to protect against further nerve damage and infection. A periodontist will install a titanium post to the jaw and from there a dental crown to ensure the tooth looks and functions like a natural tooth. This can help completely restore your dental health and will thoroughly repair your functional dental strength.
Root Canals
A root canal is a thorough procedure in which protecting the health of your dental environment is a must. If the crack is too deep it may begin to affect the interior pulp, and that can prove to be a problem. Cleaning the nerve chamber and cleaning the potential infection will restore strength to your tooth and ensure no further complications are caused. The dentist places a crown on the tooth to replicate the natural whiteness of the tooth and strengthen its exterior.
Chipped Tooth
Chips are much more common than cracks, although they may be less serious.
Cosmetic Bonding
Cosmetic bonding is the process of using the aforementioned composite resin to properly mold and shape your cleaned tooth back to its natural state. This can help restore their natural look without intensive or invasive work. Cosmetic bonding is most commonly for faint chips.
Dental Crowns
Dental crowns are mostly reserved for chips that are deeper or require more work than simple composite adjustments. Dentists may suggest dental crowns if they can help to strengthen the original tooth. Additionally, dental crowns can look natural with composite resin. Of course, it's hard to assess in the mirror if your aching tooth is suffering a crack or chip. For that reason, we would warmly recommend making an appointment with Dental Partners of Boston to speak to a professional. We look forward to speaking with you!