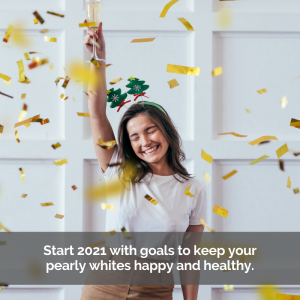 Happy New Year!
Happy new year! The year 2020 is now behind us, so what goals or resolutions are you making for the year ahead? Why not make 2021 the year where you set a goal to reach optimal dental health?
One of the first things to do to start on the right track with your dental health is to schedule an appointment for a dental check-up. Due to the events that overshadowed last year (COVID-19), it was necessary to cut down on services for a while. Many other dentists in the area closed as well, and in some cases, closed even for emergencies. With new regulations in place to ensure the safety of staff and patients, practices are open again. As a result of the closures, however, it meant a lot of people missed their regular cleanings and check-ups.
To start off the new year in the right way, you should schedule an appointment as soon as possible. Go ahead, we'll wait…
Now that you have done that, here are some things you can do to make sure that your dental health goals are met and to ensure that you have healthy teeth all year long.
Schedule a second cleaning 6 months later
After your first cleaning appointment, it is a good idea to schedule a second cleaning in six months. Not only is it good for your dental health, but it can also act as a preventative dentistry measure. You want to make sure that things are dealt with before they become a bigger issue. It is recommended that you have two cleanings each year, so get them both scheduled on the calendar.
Improve habits at home
In order to carry on with your dental routine and look after your teeth, improving your habits at home is important. You should be brushing your teeth at least twice daily, as well as flossing once a day. You can use other things like mouthwash, but that shouldn't substitute brushing and flossing.
Reduce sugar intake
Sugar is one of the things that can cause a lot of problems for your teeth, especially if you are not properly looking after your teeth. That is why it is a good idea to make a plan this year to reduce your overall sugar intake. For example, a simple swap is to drink water instead of sugary juice or soda.
Making the appointment for that dental procedure you're avoiding
If you have been avoiding scheduling an appointment or a particular dental procedure, stop putting it off! Whether you need to have a cavity filled, have a broken tooth repaired or removed, making an appointment with us will help you get back to optimal dental health. You could also schedule an appointment for other procedures, such as teeth whitening in Boston for a bright white smile.
Dental Partners of Boston wishes you a happy new year and encourages you to keep your New Year resolutions. Be sure to contact us today to schedule a check-up, cleaning, or other appointments. Our expert team is waiting to take your call.