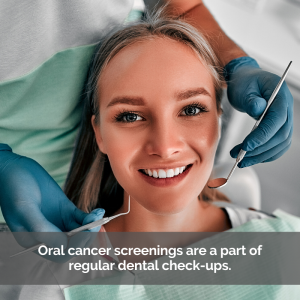 Oral cancer can develop in any part of the mouth. It can often go undiagnosed for a long period of time if you don't see a dentist regularly. The signs and symptoms can easily go unnoticed. Here at Dental Partners of Boston, we ensure your oral health is in check. We offer complete oral exams including oral cancer screening. It's something everyone should be receiving, and we can help you with that.
Complete Oral Exams at Dental Partners of Boston
If you want to find out how your oral hygiene is in general we can carry out a complete oral exam at Dental Partners of Boston. This allows us to get a full look at your oral health and hygiene and the chance to spot any problems. We can see early signs of issues that would otherwise go unnoticed. Early screening will ensure the right treatments are provided sooner rather than later to keep you at optimum oral health.
What Is the Oral Cancer Screening Procedure?
we carry out oral cancer screenings as part of our complete oral exams. It's important that we do this because oral cancer can often be diagnosed late, making treatment more difficult and complex. We can find the earliest symptoms and take action. Oral cancer can develop in any part of the mouth, including the lips, gums, tongue, cheek lining, the roof of the mouth, and the floor of the mouth. As part of our complete oral exams, we can check these parts of the mouth for signs of or oral cancer.
Why Oral Screening Is So Important
Like any cancer, finding the problem early, and getting the treatment you need, is what matters most. Overcoming the issue will be much easier if oral cancer screenings are carried out regularly during your regular dental checkup. This one of the reasons why it is so important to not miss your regular dental checkups. It is our job to keep you healthy and safe. It's particularly important for people in high-risk groups to receive regular checks. High-risk groups include people who smoke, consume a lot of alcohol, or have weakened immune systems.
Schedule A Checkup Today
If you want an oral cancer screening as part of our complete oral exam, you simply need to schedule an appointment with us today. We're always happy to meet new patients and schedule an appointment that works for you. Our complete oral exam will ensure everything is as it should be in terms of your oral health. Please contact us to schedule an appointment today.