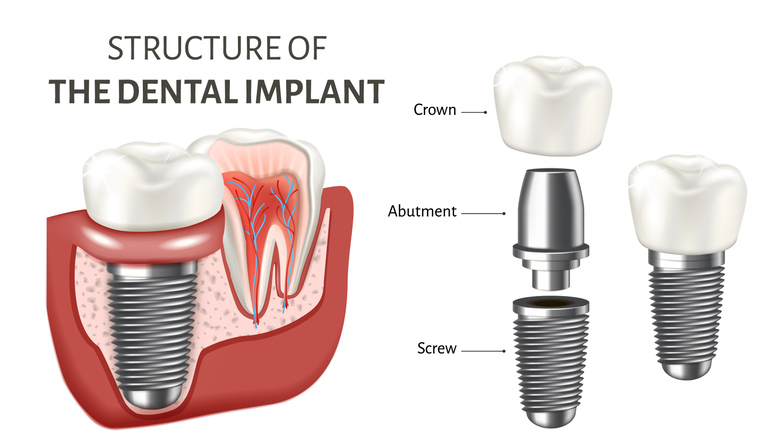 When it comes to replacing missing teeth, dental implants are a modern miracle. Capable of remaining strong and stable for a lifetime, dental implants are incredibly realistic and beautiful. Although dental implants were invented in the 1950s by an orthopedic surgeon, the technology has continued to evolve, and modern implants are better than ever before. Here are just a few advancements that have made dental implants more comfortable, stable, and realistic.
Posts That Mimic Bone Texture
Although older dental implants were smooth, new versions of these titanium posts are roughened to mimic the texture of natural bone. Because this texture allows the natural bone to fuse stronger to the implant, modern implants are more stable and have a lower rejection rate than older versions.
Smaller Dental Implants
New varieties of dental implants are also smaller than previous versions, and periodontists have a greater range of products to offer patients. For example, the mini dental implant is only 3 millimeters wide, while older versions were typically 5 millimeters wide. Smaller implants help patients with less natural bone tissue to have restorations performed successfully.
Improved Imaging
One of the biggest improvements in dental implant technology is treatment planning, largely in part due to dramatically improved imaging and computer technology. CAT scans and MRI images can help your periodontist to plan implant placement more accurately than ever before, accounting for even the smallest anatomical difference. CAD/CAM technology also helps doctors to create 3D models of smile restorations, giving patients the chance to explore their options.
Realistic Dental Crowns
New 3D printing devices and materials have made dental crowns more realistic than ever before, making it easier for patients to have dental implants without drawing attention to their smiles.
Periodontists: Your Dental Implant Specialist
Unlike general or family dentists, periodontists receive an additional three years of specialized training in the placement of dental implants. This extra training helps them to plan treatments more effectively, place dental implants in a safe, attractive way, and help patients carefully with the care and maintenance of their dental implants. If you are thinking about getting dental implants, schedule an appointment with the Dental Partners of Boston. With a team of specialists that includes periodontists, prosthodontists, restorative dentists, orthodontists, and endodontists, they can help you to achieve the smile of your dreams.