PERIODONTOLOGY & DENTAL IMPLANTS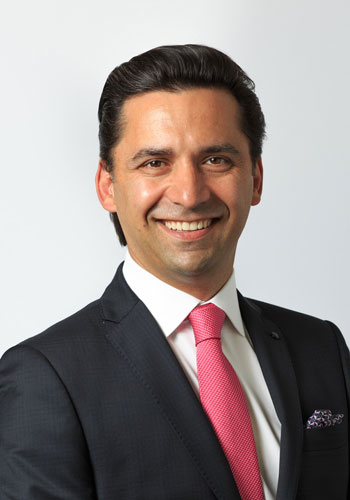 SERGIO A. GUZMAN
D.M.D., M.S.D.
Dr. Sergio A. Guzman has been in practice since 1996. He attended the Boston University School of Dental Medicine, earning his Doctorate of Dental Medicine degree, his Certificate of Advanced Graduate Study in Periodontology, and a Master's of Science in Dentistry.
In 2002, Dr. Guzman became a Diplomate of the American Board of Periodontology, a designation appointed to those who make significant achievements beyond the mandatory educational requirements of the specialty. Dr. Guzman specializes in the prevention, diagnosis and treatment of periodontal disease, as well as implant dentistry. During the past fifteen years, he has focused on implementing the newest techniques involving dental implants, including the immediate function protocols providing patients with fixed solutions on the same day of treatment.
Dr. Guzman served as an Assistant Professor at Boston University School of Dental Medicine for seven years. He also served as an officer of the Massachusetts Dental Society (MDS) from eight consecutive years. Dr. Guzman has published several scientific articles on Periodontology in leading dental journals. His professional affiliations include membership in the Massachusetts Dental Society, the American Academy of Periodontology, the Massachusetts Periodontal Society, and the American Dental Association.
Dr. Guzman joined Dental Partners of Boston in 2005, and on July 2010 he became the Managing Member of the company. He is also a past recipient of the 10-Under-10 award, which is a recognition from the MDS to a dentist who has made a significant contribution to the profession, their community, and organized dentistry. In addition, he has been selected as one of "America's Top Dentists" by the Consumers' Research Council of America for ten consecutive years, and he has been selected in the "Top Dentist" list by Boston Magazine in the last several editions.
If your teeth aren't where you want them to be,
schedule an appointment for a complete smile makeover today!
PERFORMED SERVICES
GENERAL DENTISTRY
COSMETIC DENTISTRY
SPECIALTIES