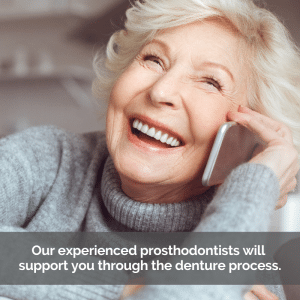 There are several reasons why people might lose their teeth and require a dental prosthetic, like a crown or dentures in Boston. Gum disease is one of those reasons, another is broken or damaged teeth due to illness, age, or a sporting accident. A prosthodontist specializes in the field of dental prosthetics and is the most qualified person to advise and treat your dental issues when restoring or replacing a tooth is necessary. 
ADVANTAGES OF DENTURES
We have several prosthodontists available to help you here at Dental Partners of Boston. They may recommend that you install a set of dentures. If your teeth are damaged or missing, the function of your teeth for chewing and speaking and overall health might be affected. Effective dentures will not only restore the function of your mouth and your eating habits, but they will also protect the integrity of your jaw and facial bone structure. They will also protect your health from harmful diseases caused by unhealthy teeth.   
CONVENTIONAL DENTURES
A certified prosthodontist such as our Dr. Michael G. O'Toole might suggest you install conventional dentures. These very common and effective types of oral prosthetics can form to the exact shape and contours of your mouth structures. 
To have these dentures installed, you will first need to have the arch prepared. While the tissue heals, which may take a few months, your prosthetic teeth will be made up. You will then return to have them fitted so you can comfortably and confidently wear them. 
IMMEDIATE DENTURES
Immediate dentures are also an option, especially if all of your teeth need to be removed on the same day. A professional prosthodontist such as Dr. Shiro Kamachi, may oversee your treatment and ensure you get the best treatment possible so that you have success.  Unlike conventional dentures, immediate dentures are fitted on the same day your teeth are removed. These initial dentures are temporary. On your preliminary visit, our dentists will take measurements and make models of your mouth. To others, you will look as if you have normal teeth while you heal. 
OVERDENTURES
Overdentures may be an option for you if you still have reliable teeth to work with. During your consultation, a qualified prosthodontist such as Dr. Kumiko Kamachi can decide which option is best for you. Individuals sometimes need overdentures. 
To preserve the integrity of your jawline, it makes sense to retain any teeth that are still in good condition. To keep this integrity, but also improve your mouth's function with dentures, a prosthetic attaches to or sits over the remaining teeth. This is an overdenture. 
PROSTHODONTIST CARE
A prosthodontist will sometimes work with a general dentist to ensure that a patient's health needs are properly met. Here at our office, our prosthodontists not only facilitate your dental treatment, but they are also interested in how that treatment benefits your wider health.  
At Dental Partners of Boston, we have several highly qualified prosthodontists available to care for your oral health. These include Dr. Carly Park, Dr. Jessica Lau, and Dr. Brett Stein, among others. They are ready to meet with you and answer all your questions during a consultation and exam. Please contact us to schedule an appointment today.