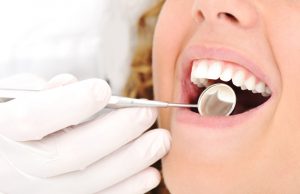 Dental Partners of Boston strives to provide each of our patients with up-to-date information on what is going on in the dental industry. We are dedicated to helping our patients make good choices related to their oral hygiene. When patients are educated about dental care, they make better choices about protecting their teeth and mouth. Our team also offers preventive measures so that our patients can catch and prevent problems before they occur.
One of the services we provide at our office is oral cancer screenings. These screenings are performed by one of our dentists in order to look for signs of cancer in the mouth. These screenings are performed in order to catch mouth cancer early. If oral cancer is caught early there is a much higher chance of curing it.
What Is Oral Cancer Screening?
While preventing the disease is best, if you are at high risk of oral cancer, a screening is a good way to check for signs of oral cancer. It is important to note that these screenings are not foolproof. However, they can catch some signs of oral cancer, and, if your dentist finds anything unusual, further tests can be conducted.
These oral cancer screenings can be performed during a routine examination, and sometimes additional tests might be used to look for abnormal cells.
How To Know if You're a High-Risk Patient?
If you are at high risk of oral cancer, we are more likely to screen you for signs of the disease.
Some behaviors that contribute to oral cancer include:
Tobacco use such as cigarettes, cigars, chewing tobacco, snuff, etc.
Heavy alcohol use
A history of sun exposure that can increase the chance of lip cancer
Family history
If you have noticed any unusual lesions or discoloration in your mouth, please bring that up with us. We are happy to provide more thorough screenings if necessary.
The only way to know for sure if a patient has oral cancer is to perform a biopsy. During the oral cancer screening, we look for unusual sores. If we see something unusual we may conduct tests to determine the cause of sores or lesions.
Contact Us to Learn More About Oral Cancer Screenings
Give the team at Dental Partners of Boston a call to learn more or to schedule an appointment for your oral cancer screening. Our friendly staff is happy to help find a time that is convenient for your busy schedule.