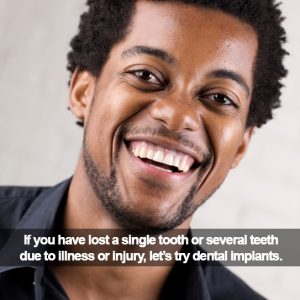 Patients who've lost bone in their jaw or have missing teeth as a result of gum disease or other health issues know the pain of losing the beautiful aesthetics of their natural smile as well as the trouble of trying to eat or speak properly. Dental implants are one of the ways to correctly solve this issue, but the process in the past could take up to a year. Luckily, Dental Partners of Boston has a solution: immediate dental plants that can be done in a single office visit. Take a moment to learn more about them below!
What are Immediate Dental Implants?
Dental implants act as a replacement to the roots of your teeth. They provide a solid foundation in which replacement teeth or permanent fixed teeth can be placed in your mouth to match your natural teeth. Typically, dental implants can take several visits to get working, but with immediate dental implants you can have the procedure done in a single office visit. This is through a revolutionary process that utilizes 3D printing technology to place a bridge with space for four dental implants utilizing the bone that the patient has available. Here is a short list of some of the advantages to utilizing immediate dental implants:
1. Being able to have your teeth fixed immediately.
2. Having a better esthetic look to your smile.
3. Doesn't require the use of removable prosthesis which are often uncomfortable.
4. Improving personal self-image and confidence in addition to enhanced oral function.
Are One Visit Dental Implants Right for You?
There are many restorative dentistry procedures out there, so we are unable to determine if a procedure is right for a patient until an assessment is performed. Once we've assessed the state of your current oral health, we will be able to recommend an appropriate treatment option. A dental implant will likely be appropriate for you if you're missing crucial teeth and wish to return aesthetics and functionality back to your mouth. We will generally recommend one visit dental implants to most patients who're going to receive dental implants.
How is the Procedure for Immediate Dental Implants Performed?
After the necessary assessment is performed on a patient, the single visit dental implant procedure can be scheduled and undergone. First, the area is prepared for the surgery; meaning any roots or teeth that need to be removed or altered must be taken care of first. From there, the site is prepared with a bridge and the dental implants utilizing the 3D printing technology.
Make an Appointment
Dental implants are a great way to restore the aesthetics and function of your teeth; making them a great choice when necessary for a patient. If you're looking to make an appointment for a one visit dental implant or another procedure that we offer, please contact us today.  Our trained dentists and professional dental team are proud to serve the greater Boston, MA, area.