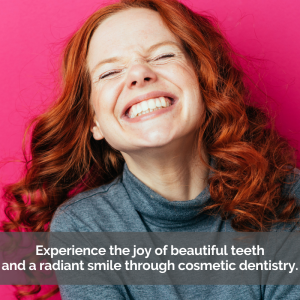 When you're looking for a cosmetic dentist in Boston, naturally you want the best because your smile means a lot. You want someone with experience and someone you can trust to improve your smile. From teeth whitening to dental implants, there are many types of cosmetic dental treatments from which to choose. Choosing a talented cosmetic dentist will ensure you have a beautiful smile and one you can be proud of.
Cosmetic Dental Treatments Is About You
One of the main benefits of cosmetic dentistry treatments is the confidence boost people experience. When you ask someone what they notice first about another person's appearance, a lot of people will say their smile.  If you are embarrassed by your smile, this can be a great cause of sadness and concern.
If you decide to get cosmetic dentistry treatment, you will be proud to show off your smile. This will result in more smiles and more laughter, which is good for the soul. The confidence boost you can experience from cosmetic dentistry treatments is significant. It is no exaggeration to say that this has actually changed the lives of a lot of people. Suffering from low self-esteem is no fun. Thankfully, cosmetic dentistry is one solution.
Cosmetic Dentistry Is Good for Your Health
A lot of people assume that cosmetic dentistry is only about aesthetic benefits, but it also concerns your health. A chipped tooth, for instance, could end up causing a toothache. Additionally, tooth loss without dental implants can result in teeth misalignment, impacting your bite, and causing the bone to deteriorate. This can make it difficult for you to chew, and in some cases, even cause problems in your jaw.
The health implications and physical benefits of cosmetic dentistry will differ from patient to patient. When you contact us at Dental Partners of Boston, we will discuss all your options together in a consultation.
Types of Cosmetic Dentistry
There are many different cosmetic dental treatments available for people to choose from today. Some of these treatments include:
People are becoming more open to these treatments. However, a lot of people do not realize the positive impact cosmetic dental treatments have on the individual. Yes, the aesthetic benefits are incredible. Nevertheless, you are also going to experience a great boost in your self-esteem and your confidence. Plus, cosmetic dental treatments can also be beneficial when it comes to ensuring the health of your teeth and jaw. The health implications associated with cosmetic dentistry will differ from person to person, depending on what you need and what your goals are.
You are going to feel a great boost in self-confidence that comes with having healthy teeth. A radiant smile will make you feel happy about sharing it with the world. Please contact us today to talk about what you would like to change to improve your smile and dental health.