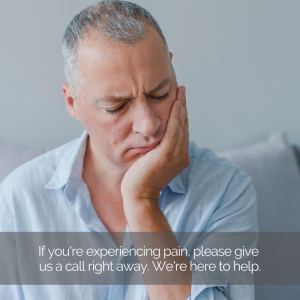 Dental emergencies can be stressful and can be very painful, but with the right partners in treatment, you can address them calmly and quickly. The sooner you can act, the better your chances of preventing more serious issues and the more likely you are to keep your tooth. As such, it's wise to have a team like the Dental Partners of Boston that you can call up when you need them in an emergency.
When Do I Need Emergency Dental Care?
If you believe you are unsure if the situation is an emergency, your first course of action should be to give us a call so we can give you guidance and advice about your next steps. We may recommend that you come into the office for immediate treatment. Some cases may call for an emergency room visit.
Conditions That May Constitute A Dental Emergency
Though we can't diagnose what you are facing until you get in, here are some symptoms you should take notice of and get in touch with us immediately if you experience them:
If your jaw is swollen

If you have an abscess in your mouth

If your gums are bleeding or aching

If you have suffered from physical trauma and your tooth feels painful after

If you can taste metal in your mouth

If your tooth has gone numb after you have experienced a toothache 

If you have a loose tooth

If you have regular non-stress related headaches
The symptoms above can be signs of serious tooth infections, gum infections, risks of tooth loss, and other serious issues that should be treated as emergencies. If you experience any of these, don't hesitate to look for emergency dental near you.
What Is Emergency Dental Care?
Emergency dental care covers a range of treatments that are used to restore your oral health as quickly as possible and to ensure that no further harm or complications arise from emergency situations. For instance, in the case of tooth loss or damage, we can offer tooth reattachment treatments that bond the broken or lost tooth back into place, allowing them to heal back in place naturally. It can also include the use of antibiotics to ensure that severe infections are stopped.
If You Think That You're Experiencing A Dental Emergency, Don't Wait!
Whether you've injured yourself and you believe your teeth have been affected, you experience any of the symptoms above, or even if you don't but you're still worried about your oral health, don't hesitate to get in touch with emergency dental near you. Dental Partners of Boston will be here no matter the time to protect your oral health when you need us the most. Contact us immediately if you are experiencing a dental emergency!