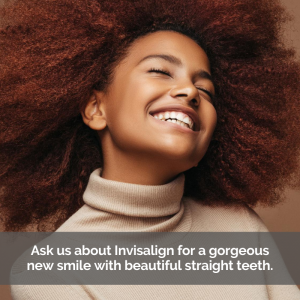 When it comes to achieving a picture-perfect smile, it's easy to feel like your teeth are inadequate. This is especially true if they aren't as dazzling white or perfectly straight as those you see all over social media. As a result of this, it's easy to struggle with your self-esteem and feel uncomfortable about your appearance.
The good news is that when it comes to most alignment issues with your teeth, most of the time it's fairly easy to correct.
For instance, if your teeth are not as straight as you would like them to be, then you may have thought about getting braces to straighten them or using Invisalign to improve the aesthetic appearance of your smile. While most people have their teeth straightened during their teenage years, that doesn't mean that it is not possible to have your teeth straightened once you're older.
Until fairly recently, there was only one method of teeth straightening available: the use of metal braces. However, in recent years, thanks to advancements in 3D printing, a new option has become available – teeth straightening through the use of 'invisible' braces made from strong plastic molds.
Don't settle. Get the best

Dental Partners of Boston is great. They fixed 50 years of mediocre dental work and my lack of braces as a child in short order. I recommend the practice without reservation. And their COVID preparations were fully over the top. I felt safe the entire time. No short cuts. Just great service and attention to detail.
What smile types can be corrected using Invisalign treatment? 
What's great about the use of clear braces, such as Invisalign, is the fact that the new technology has been designed to meet the needs of varying smile issues. So whether you have an overbite, an underbite, or a crooked smile, Invisalign should be able to help alter it and move your teeth back into a straighter position.
Overbite: Upper front teeth close in front of the lower teeth Underbite: Lower teeth protrude past upper front teeth Crossbite: Upper and lower jaw don't line up 
Gap Teeth: Extra space between teeth 

Open Bite: Top and bottom teeth don't meet 

Crooked Teeth: There isn't enough room in the jay for teeth to fit normally 

Generally Straight Teeth: When you just want small adjustments for a more beautiful smile Mix of Baby and Permanent Teeth: Beginning orthodontic treatment for children with adult teeth coming in among baby teeth
How do you know if Invisalign is a good option for you? 
When it comes to determining whether Invisalign treatment is a good option for you, please contact us to come in for a consultation. We will discuss your goals for your smile and advise the best course for you. We will help you consider the cost and the time the treatment will take to work effectively.
Invisible braces are great if you're someone who gets self-conscious, as when they're in place, they're barely visible, hence the name. Most people have to wear Invisalign braces for between one and three years to see the finished result, however, some people only need to wear them for six to 18 months. The time period braces are required for is determined by how your personal type of correction is needed.
We will be happy to meet with you and answer all your questions about Invisalign invisible braces. Please contact us to request an appointment today.