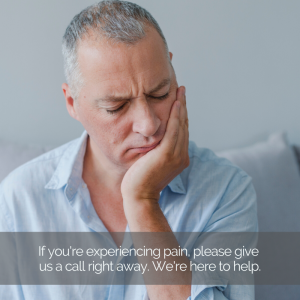 Dental emergencies can be stressful and can be very painful. With Dental Partners of Boston, we treat your dental emergency quickly and thoroughly. The sooner you can act, the better your chances of preventing more serious, long-lasting, or permanent issues. Dental Partners of Boston has a team of dentists of various specialties ready to treat your dental emergency.
When Do I Need Emergency Dental Care?
If you are unsure if the situation is an emergency, please give us a call so we can give you guidance and advice about your next steps. We may recommend that you come into the office for immediate treatment. Some cases may call for an emergency room visit.
Dental Emergency Conditions
Though we can't diagnose what you are facing until visit with you, here are some symptoms that may warrant an emergency:
Your jaw is swollen
You have an abscess in your mouth
Your gums are bleeding or aching
You have tooth pain after physical trauma
You can taste metal in your mouth
Your tooth has gone numb after  experiencing a toothache
You have a loose tooth
You have regular non-stress related headaches
These symptoms can be signs of serious tooth infections, gum infections, risks of tooth loss, and other serious issues that could be a dental emergency. If you experience any of these, give us a call.
What Is Emergency Dental Care?
Emergency dental care covers a range of treatments that are used to restore your oral health as quickly. It is to prevent further harm or complications as a result of a dental emergency. For instance, in the case of tooth loss or damage, we can offer tooth reattachment or bonding treatments. This allows the tooth to heal in place naturally. It can also include the use of antibiotics to stop infections.
Don't Wait If You Have A Dental Emergency
Whether you have injured your teeth or experiencing any of the symptoms above, don't hesitate to call about your dental emergency. Dental Partners of Boston will help protect your oral health when you need us the most.