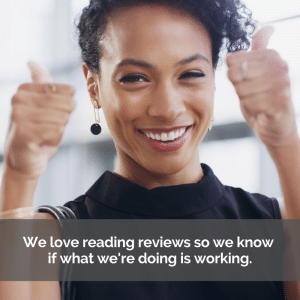 Reviews are important to any business, but for our periodontal office in Boston, reviews are vital to ensure that you—our customer—are happy about the procedure.
At Dental Partners of Boston, we believe that our service is about you. Your needs are our main priority. We have an experienced team on board, including Dr. Sergio Guzman, our periodontist in Boston. Patients come to him from all over due to his high regard and reputation. You can see by reading our reviews from current patients why he's so popular!
Reviews Help Our Commitment to Excellence
Our reviews prove our commitment to excellence, and we believe that every patient should benefit from an exceptional, completely tailored treatment plan. No two plans are the same because no two patients are the same. You will have the benefit of all of our specialists, from the front of the office to the dentists you work with. Every single patient review is important to us, and each review helps us to better our service for the next patient. The more reviews we receive – good, bad, and everything in between – the better we get. Reviews help us to understand your experience of each treatment and each doctor who works with you.
Client Review from PM
At Dental Partners of Boston, we offer more than general dentistry and specialized dental services, we make the whole experience exceptional. A client with the initials P M left a review to express appreciation for our services. P M appreciated the appointment reminder, parking validation, and COVID-19 safety measures. It's reviews like this that help us to understand that we are doing the right thing for our patients. Our policies are important to us, and we hope to continue to reflect this with our efforts placed on health and hygiene in our practice. 
Outstanding Care
P M
★★★★★
"Go to Dental Partners of Boston for outstanding care, professionalism and safety. The entire team is wonderful. Appointment reminders are sent via email and text. There is parking validation. Covid-19 safety protocols are in place, and everyone is caring and responsive."…
read more
Client Review from Carolyn
Another review, mentioning our COVID19 practices, came from Carolyn in December 2020. It was her first visit, and she was happy with the cleanliness in the office and the safety procedures in place. Carolyn mentioned that she felt comfortable and that Dr. Carolina Mujica met her and listened to all of her concerns. We're proud that the review mentions that the plan of action given to her was thorough, which isn't something that she experienced elsewhere. We aim to make our patients feel like VIPs, just like Carolyn!
Dental Partners of Boston at Prudential Center
Carolyn Stolov
★★★★★
"I visited Dental Partners of Boston at the Prudential for the first time. I was impressed with the COVID safety procedures in place and the clean office. Most of all I was impressed with the staff!…
read more
Client Review from Lisa
As well as being praised for our efforts in keeping our offices and services at the highest level, our patient, Lisa, recently left us a review praising Linda, one of our dental hygienists. Lisa feels fortunate to have access to a talented team across the board. We aim to remain confident in our field and ensure that our patients feel comfortable at all times—from the front desk to our clinical team and dentists.
A Talented Team
Lisa Fiore
★★★★★
"Linda is an amazing and caring person. We have been coming to this practice for decades and it is truly her work that we count on and reference when talking about the practice. We feel fortunate to have access to such a talented team and are confident in the expertise shared."
Our reviews are proudly on display for our patients to see and for our dentists to thrive from. With our professionals on hand, we put your dental care first before anything else, and we're proud to be able to do this for all of our patients. Want to know more? Give us a call today and book an appointment!