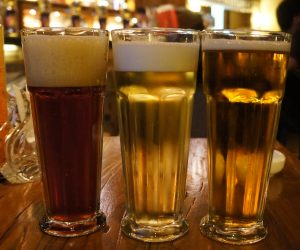 At Dental Partners of Boston, we like to educate our patients on how different foods and habits can impact oral hygiene. We know that with education and information on your side, you can make good choices for your individual oral hygiene.
Oktoberfest is in full swing which means beer. Are you a beer drinker? Do you enjoy craft beers or just regular, old-fashioned beer? We all have a preference but, maybe we don't stop to think about how beer impacts our teeth.
All types of alcohol can have an impact on teeth. Red wines can cause stains, for example. But, there are some certain, specific impacts from beer drinking on teeth. This page goes into detail on how tooth decay and gum disease are related to beer ingredients.
Now, don't worry, we aren't trying to say you should never enjoy a beer again. But, this information can help you make informed choices.
A Recent Study
A new study found that ingredients in beer can actually prevent cavities or gum disease. Bet you weren't expecting that, right? You can go ahead and keep drinking those hops as it appears they can prevent tooth decay. This is due to the hop leaves, called bracts, that contain antioxidants that appear to be helpful in fighting tooth decay.
Not a lot of research has been done on this topic yet but still, this is rather interesting! This study is one of the first on the compounds found in bracts. The study used a lab technique called chromatography and found many interesting results. They discovered three new compounds. One of these was not known to be found in plants. Finding these compounds can lead to new products being created that can lead to better dental health.
What Does This Mean?
First, it shows that science is still discovering exciting, new things. Also, some of these new techniques could lead to better services for you and your family in the future.
While not all beers contain these ingredients, beer could actually be partially good for your dental health!
We can treat tooth decay in Boston and the surrounding areas. If you are due for teeth cleaning, give Dental Partners of Boston a call. We are happy to schedule an appointment that works with your schedule.