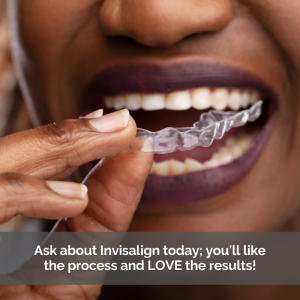 Being self-conscious about your smile is one thing that we at Dental Partners of Boston are determined to change. No one should feel like they have to hide their smile! Getting a perfectly straight smile might not seem possible, but thanks to Invisalign® invisible braces, we can help you smile freely again.
How Invisalign® Aligners Work
As providers of Invisalign®, we've helped many of our patients straighten crooked teeth. The process starts by taking a 3-D image of your mouth. This helps Orthodontist Dr. Yael Frydman create custom-fitted aligners that are perfect for your teeth.
Through digital visualization, you'll get an opportunity to see how your teeth should look at each stage and the process. You will see how your teeth are straightening until the end of treatment.
Custom aligners gradually move your teeth into place. You'll be surprised at how comfortable they are to wear. They're smooth and low-profile, so they don't cause discomfort on the inside of your lips or cheeks as traditional braces do. Over the course of the process, you'll switch to a new aligner every two weeks until your teeth are straight.
The benefit of Invisalign® invisible aligners is that you can take them out for short periods of time. This can be helpful when eating and brushing your teeth. For the average person, the process takes just six to nine months to complete.
The Advantages of Invisalign® Aligners
The advantage of invisible aligners, as opposed to traditional braces, is that they're clear and invisible, as the name suggests. Thankfully, they are more discreet for those who don't want others to know they are wearing aligners. This is especially useful for adults who are in professional settings.
Brushing and flossing are certainly made easier with aligners since they're removable and it means you can continue to look after the health of your gums. Aligners also offer results more rapidly than traditional braces do.
Confident Smiles With Dr. Yael Frydman
Here at Dental Partners of Boston, orthodontist Dr. Yael Frydman loves her work because she is able to provide patient after patient, with a beautiful smile that they're more than happy to show off. Having confidence in your smile should be something that everyone should experience and with her years of experience in practice, you can expect and trust Dr. Frydman to provide excellent service and wonderful results.
Why Choose Dental Partners of Boston?
We are recognized as one of the best dental practices in Boston and when it comes to invisible braces, Invisalign® is one of the more productive methods of straightening your teeth and achieving a smile that you will want to share with the world.
Schedule an appointment for a consultation with Dr. Frydman today so that you can see just how effective clear aligners can be for your teeth. The team here at Dental Partners of Boston are here to answer your questions whenever you're ready!